Digital marketing is a powerful tool for nonprofits that help you reach donors, volunteers, and supporters from every part of the world. It helps you boost awareness, expand global reach, and build relationships with the target audience. When it comes to digital marketing for nonprofits, there are several tactics like – SEO, social media marketing, Instagram marketing, Youtube marketing, and online advertising that you can leverage to grow your nonprofit.
This comprehensive guide will take you through 30 digital marketing strategies to market your nonprofit organization.
1. What Is Nonprofit Marketing?
Nonprofit marketing involves using a wide range of techniques and tactics to achieve nonprofit goals like – spreading awareness, raising funds, engaging volunteers, encouraging memberships, and driving social change. In addition, it empowers them to convey main ideas and causes involving the right people at the right time. As a result, NGOs and charities can increase the list of donors and volunteers.
2. Why do Nonprofits Need Digital Marketing?
Here are the reasons why nonprofit leaders should leverage the power of digital marketing –
Digital marketing for nonprofits helps you reach a wider audience and convert them into potential donors and supporters. Through email marketing, video marketing, and content marketing – nonprofits can directly get involved in the cause and establish relationships with the audience.
One of the significant advantages of digital marketing for nonprofits is that it is cost-effective and can reach a wider audience. It helps boost your nonprofit growth by opening up many avenues to tap into the global marketplace at a relatively cost-effective price.
Digital marketing for nonprofits enables you to extract data to see which audiences will work best for you. There are different options such as – SEO, PPC, and social media marketing that help you reach the relevant audiences through demographic information.
3. How Is Marketing Different for a Nonprofit Organization?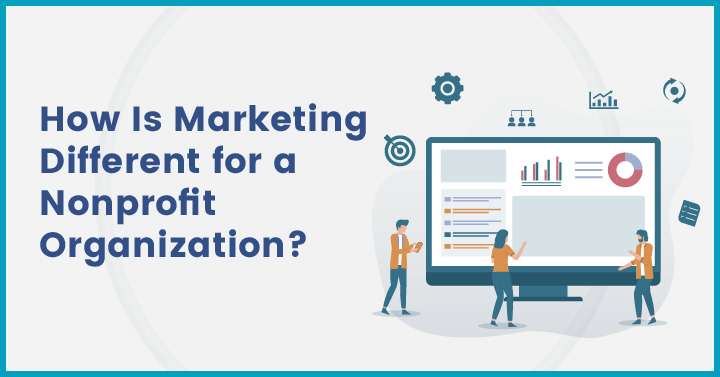 Digital marketing for nonprofits is different from for-profits in many ways. Nonprofits may require a distinctive marketing strategy as the target audience is government, social enterprises, welfare organizations, donors, and volunteers.
Here is a rundown of the objectives of nonprofits –
Nonprofit products have a weak unique selling proposition (USP) and benefits, making it challenging to direct the target audience's behavior. For example, donating to nonprofits makes the donor feel good. However, it is not enough to induce people to give.
Unlike for-profit organizations, nonprofits need to develop campaigns that drive behavior in target audiences rather than specific results. For instance, the road safety campaign might encourage millennials to drive at a speed limit rather than convincing them into making a purchase.
Nonprofits often rely on stakeholders to support the organization. Unlike for-profit organizations – there is no profit to redistribute to the stakeholders. Instead, the revenue generated is used to reward the shareholders.
With these key differences in mind, nonprofits should adopt a marketing strategy that fits their distinctive nature. Digital marketing for nonprofits aims to build awareness of a cause or issue and gain financial support from the public for its cause. Therefore, they focus their marketing activities on how satisfying it feels to help others.
4. 30 Digital Marketing Strategies for Nonprofits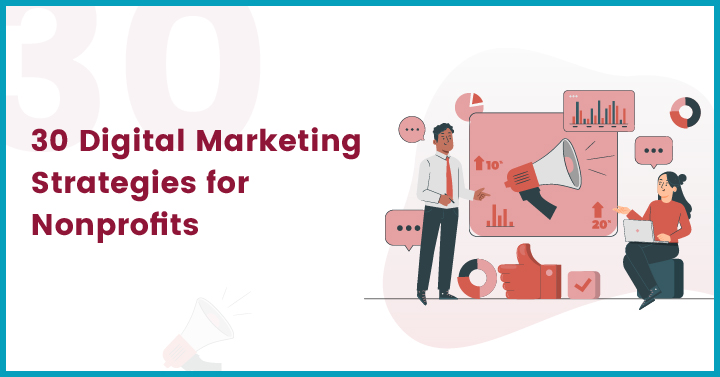 4.1 SEO for Nonprofits
Keyword Optimization
Keywords are the phrases or terms within the context similar to the search query of your target audience – donor, volunteer, or supporter. Search engines use them to provide searchers with a list of relevant results on SERPs. Therefore, if your website has keywords used by your target audience, it is more likely to be positioned on top of SERPs.
Page Speed Optimization
Page speed optimization is an important ranking factor that dramatically impacts your site's SEO. Typically, pages with slow loading time are poorly ranked by search engines. However, you can use tools like GTMetrix and Pingdom to test your website's loading speed.
Guest Blogging
Guest blogging or posting for nonprofits helps grow your brand in the nonprofit community. It helps gain high-quality backlinks and increases the domain authority (DA) of your website. Over time, it positions your nonprofit as a credible source.
To read more about SEO for nonprofits, read our full article here.
4.2 Content Marketing
Publish and Manage Content
Publishing content consistently on your website is one of the best ways to focus on your mission, gather supporters, and catch the attention of volunteers. Create interesting content workflows that meet your target audience's requirements. Experiment with content strategies on multiple platforms like – Reddit, Medium, and LinkedIn to drive your target audience to your website.
Identify Topic Clusters
Topic clusters are multiple pieces of content grouped under one topic or subject. In this, a single page acts as the main content hub for various pages related to the same topic. This kind of topic cluster signals the search engines that there is a real depth in the content, which gives the pillar more authority.
Create Cornerstone Content
Cornerstone content consists of the best and most important content, posts, and pages on your website. You can use Data Highlighter on Google Search Console, which helps you identify key topics based on – title, category, author, image, date published, and ratings.
To read more about content marketing for nonprofits, read our full article here.
4.3 Social Media for Nonprofits
Social Media Channels
Nonprofits can connect with new donors and garner awareness about their nonprofit brand by creating social media accounts on – Facebook, Twitter, Instagram, and LinkedIn. You can leverage your social media presence to achieve goals like building networks, raising donations, and recruiting volunteers.
Invite Influencers
Social media influencers can help increase awareness, generate support and raise donations. In addition, hearing about your organization from a beloved influencer will make the followers trust your nonprofit. Testimonials and volunteer stories also work well as proof of information and help build credibility.
Use Hashtag Campaigns
Hashtag campaigns are a perfect way for nonprofits to engage their audience and engage them in their social cause. Getting insights into what your audience seeks can be extremely helpful in creating an appropriate hashtag campaign. Also, they play a crucial role in making your idea of purpose viral.
Host Virtual Events
Virtual events offer an excellent opportunity to attract potential donors in less time. Your supporters likely crave exciting updates on the causes or nonprofits they are associated with. You can use platforms like Facebook or LinkedIn Live to share information and answer questions in real-time.
To read more about social media for nonprofits, read our full article here.
4.4 Instagram for Nonprofits
Leverage the Power of Instagram Ads
For nonprofits, the most effective use of Instagram is as an advertising platform. You can advertise to your potential supporters on Instagram to share your mission, raise funds, or even promote your upcoming event or fundraiser.
Post Instagram Reels
Instagram reels for your nonprofits can help you capture viral, fun, and engaging moments that captivate and grow your followers. You can also raise money for your nonprofit organization by adding fundraisers and attaching donation buttons to your Instagram reels.
Instagram Community
Nonprofits can use Instagram to broadcast their work, find more users to engage with their mission, and even demonstrate impact. Also, the platform brings experts, organizations, and communities to educate people about ways to support your cause.
To read more about Instagram for nonprofits, read our full article here.
4.5 TikTok for Nonprofits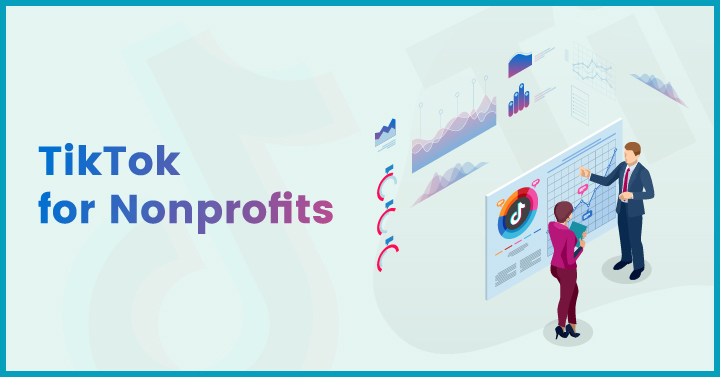 Use TikTok Live
TikTok could be a terrific way to diversify your donor and volunteer base. TikTok Live is an interesting feature that allows users to designate which nonprofit they support from their profile. It enables users to spread awareness of your nonprofit directly from their accounts.
Switch to TikTok Pro
For effective results on TikTok, nonprofits need to upgrade to the pro version with plenty of features to increase their nonprofit audience and boost revenue. It emphasizes authenticity and creates a welcoming environment to spread the word about your mission or cause.
Use the Right TikTok Hashtags
Hashtags are a big deal on social channels, especially TikTok. They give participants a clear goal and call to action. You can choose an easy-to-type and concise hashtag for your nonprofit campaign to increase your visibility and broader reach.
To read more about TikTok for nonprofits, read our full article here.
4.6 LinkedIn for Nonprofits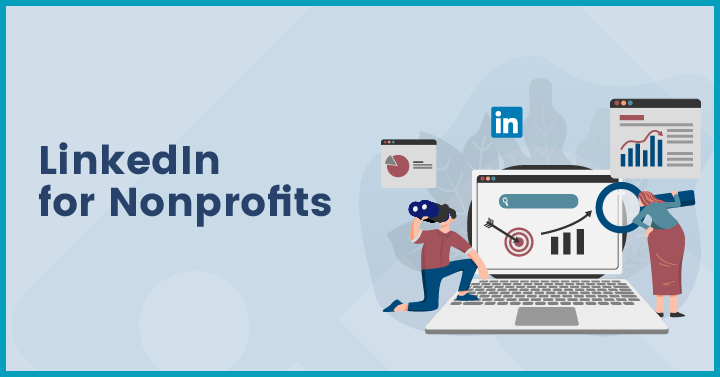 Respond to Follower's Questions
Respond to your followers on LinkedIn as it shows your supporters that you value their input and want to engage with them. First, it is imperative to develop rapport to build a brand reputation and authority. Secondly, being active on Linkedin helps you spark conversation and keep your followers connected with you for longer.
Join Multiple Groups
The best way to establish your presence on Linkedin is to join groups. You need to present yourself as an active community member to gain traction. Start finding groups using the search bar, such as volunteers, grant applications, fundraising, etc. To advocate specific issues, you can create your own Linkedin group.
Use Slideshare for Promotion
Slideshare is a great way to deliver eye-catching content and grant the attention of a wider audience. Using Slideshare, you can upload and share presentations to help your potential donors and supporters understand your achievements and objectives.
To read more about Linkedin for nonprofits, read our full article here.
4.7 Nonprofit Online Advertising
Social Media Ads
Social media channels offer paid advertising that helps nonprofits influence their target audience. You can choose from Twitter, Instagram, Linkedin, or Facebook to spread the message and engage your followers. They also provide a treasure trove of data and allow more interaction with your target audience.
Fundraising Campaign
Donation websites are a great way to get your brand in front of the right public and raise funds. Leverage online platforms like Givelify and GoFundMe that have already built their reputation and have a pool of potential donors. Besides, you can invest in email marketing, online ads, and social media marketing to direct people to your donation page.
Giveaway Promotional Items
Handing out promotional items like t-shirts, tote bags, pens, and reusable water bottles is a more organic way to get the attention of potential donors to your cause. Everybody loves free stuff, and you can spread awareness about your cause or issue by giving freebies.
To read more about nonprofit online advertising, read our full article here.
4.8 Google Ad Grants for Nonprofits
Use Right Keywords
With the ever-updating algorithm, there is a need to focus on long-tail keywords – especially to optimize Google ad spend. Such keywords are more specific than broad terms and can gather relevant people interested in the objectives of your nonprofit. You can utilize tools like Google's Keyword Planner to understand the estimated bid for success.
Understand Readers and Audience
You can discover what your target audience searches for with a thorough analysis of the keywords. Further, cross-reference it with individual searches to find keywords that fit your Google Ad Grants budget. The more you understand the audience's search behavior, the higher the chances of effective campaigns.
Analyze the Performance
It is crucial to understand the performance of the ad groups and campaigns to see what's working and what's not. With regular audits of ad campaign strategy, you will be able to get high click-through rates. Also, you will be able to identify which bids cost you more than conversions.
To read more about Google Ad Grants for nonprofits, read our full article here.
4.9 YouTube for Nonprofits
YouTube Creator Academy
YouTube creator academy is a comprehensive learning platform for YouTubers to hone their skills and train from the ground up. You will find free online courses and lessons to build your audience and optimize your nonprofit channel for success, from content strategy to channel optimization.
Link Anywhere Cards
YouTube Link Anywhere cards are the little interactive pop-ups you see in videos. As a part of the YouTube for nonprofits program, you can place a card with a link to external pages beyond YouTube. Building your nonprofit brand on YouTube enables you to drive viewers towards the donation page or external resources.
YouTube Fundraiser
Nonprofits can fundraise on YouTube by embedding a campaign in your video, roping multiple channels to display your fundraiser, collaborating with influencers, etc. It will help you create a better impact for your cause by reaching a wider audience.
To read more about YouTube for nonprofits, read our full article here.
4.10 Email Marketing for Nonprofit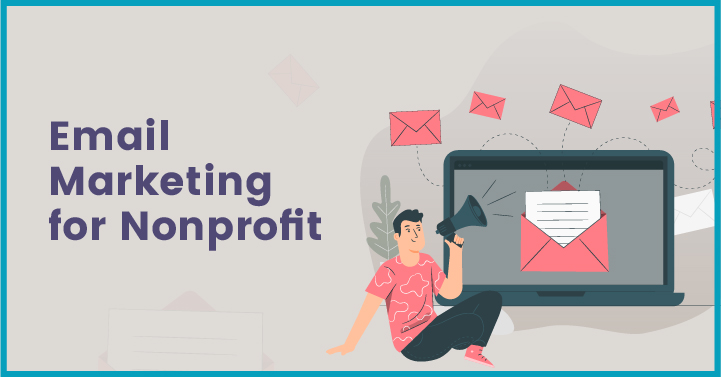 Create Fundraising Campaigns
Emails remain one of the best ways to raise awareness of your cause and fundraiser. You can also email a pitch to reporters to boost awareness of your cause. Once you have reached your fundraising goal, show some appreciation to your supporters by sending a thank you letter.
Send Newsletters
Newsletters are a great way to show your organization's good work. Through newsletters, you can direct subscribers to your website where they can read a full-length story and become inspired to take action like – signing an online petition, donating, following on social media, etc.
Do Not Ignore the Welcome Series
Create a welcome email for new subscribers with a variety of content like – a short message from your Director, a simple welcome note, a call-to-action to donate, or a request to follow on social media.
To read more about email marketing for nonprofits, read our full article here.
5. FAQs
5.1 What Are the Benefits of Nonprofit Marketing?
Nonprofit marketing serves multiple functions to keep the charitable organization running. If you are wondering what is the importance of marketing in nonprofit organization, here is the rundown of the benefits of digital marketing for nonprofits –
Promote a cause – Nonprofit marketing can help educate and create awareness among people about your mission and objectives.
Fundraising – It can help you solicit donations and funds required to support your charity work. Also, it helps catch the attention of donors who want to form mutually beneficial partnerships with you.
Build authority – It can help you establish a robust and reliable authority in front of your target audience. You can do much with digital marketing for nonprofits to build loyalty and gain trust.
Engaging volunteers – It isn't just for funding but to drive manpower and encourage more people to participate in your organization's events and activities.
About Us
Growth Ganik is a rapidly evolving digital marketing agency in Sydney, Australia that specializes in SEO, content marketing, marketing strategy and lead generation.
We work with clients from leading brands and industries such as B2B SaaS, nonprofits and more to develop profitable digital marketing solutions that are data-driven to support all kinds of business goals from widening user bases, gaining more traction for online engagement, to increasing conversion and helping businesses scale up.
For creative tailor-made digital solutions and sustainable growth insights, get in touch with us!