Marketing automation is essential for any modern SaaS business looking to optimize its operations. As a result, there is an enormous variety of marketing automation for SaaS available today, each with its own unique attributes.
By reducing the resources necessary to complete repetitive tasks, these SaaS onsite marketing tools can free up employees to resolve more complex objectives and challenges
1. What Is Marketing Automation?
Marketing automation is about programming preset actions so that they trigger without human intervention. The idea is to create a (relatively) personalized journey that reacts to the specific behaviors or milestones of your customers.
By creating these templated pathways, leads are propelled through the sales cycle with minimal need for a business to devote additional time and money to each individual interaction.
2. What Is SaaS Marketing Automation?
Automation for marketing SaaS involves the use of software tools that can be used to automate and streamline tasks and processes in marketing strategies for SaaS businesses.
3. Benefits of Marketing Automation for SaaS Businesses
For SaaS products, MarTech can be invaluable as a means to smooth the path to conversions, creating maximum impact with minimal input. It can be used to do everything from encouraging individuals to learn more about your product, to getting them to sign up for a demo, to ultimately purchasing a license – as well as simplifying internal administration processes and data analysis.
Even beyond getting someone onboard, marketing automation for SaaS can help keep customers engaged, reducing churn and increasing satisfaction. The real question is not why should you buy marketing automation, but what is the best software for marketing automation for you?
4. Types of Marketing Automation 
4.1 Marketing Automation Analytics
Analyzing the success of your marketing campaigns is crucial to creating a more productive, successful strategy, but sifting through tons of data can be incredibly time-consuming. That's why a lot of SaaS onsite marketing tools do the hard work instead, allowing you to set up regular reports that feature the metrics you want to see as a means of measuring progress.
4.2 Email Marketing Automation
Most companies looking for a SaaS solution aren't going to buy right away. Instead, you'll need to take them on a journey down your sales funnel. Automating your email marketing according to general patterns of behavior or a set of client personas creates a constant flow that ensures no lead is lost.
4.3 Lead Management Automation
Speaking of leads, automating the acquisition and assessment of prospects is another way to save heaps of employee time, taking the manual work out of qualifying customers. That's not to say you should ignore certain people who visit your product pages or download value-added content via your social media channels, but it certainly helps to instantly focus more attention on those who are more likely to buy according to your marketplace evaluation.
4.4 Omnichannel Automation
The digital age offers marketers multiple ways to reach their targets, but you need to make sure that your messaging is consistent across platforms. Fortunately, there are SaaS automation tools to help with that, with the added bonus that they simplify things for your employees as well.
4.5 CRM Automation
Rather than manually monitoring CRM software, automation of collaborative marketing for SaaS can make sure everything (and everyone) is synced up at every stage, discarding entirely the kind of mind-numbing copy-paste exercises that used to be so common.
4.6 Social Media Marketing Automation
Scheduling when your social media posts are published is perhaps one of the simplest and surprisingly beneficial aspects of marketing automation for SaaS. By organizing what gets sent out and when days in advance, you don't have to worry about distractions hampering your carefully prepared social media strategy.
4.7 Advertising Automation
Some SaaS marketing automation software allows you to organize rules-based decisions around online ads. One brilliant aspect of this is retargeting. LinkedIn, Facebook, Google – all major online advertising avenues have tools to help automate the process of reshowing ads to customers that have already shown a degree of interest, but there are also other companies that put all ads across platforms into one interface.
4.8 Mobile Marketing Automation
Setting up a series of smartphone push notifications is yet another way to keep customers engaged. By reminding them of product features, new updates, or must-read content associated with your SaaS, makes it much simpler to convert and keep users.
5. 34 Marketing Automation Tools to Grow Your Business Online
5.1 Customer.io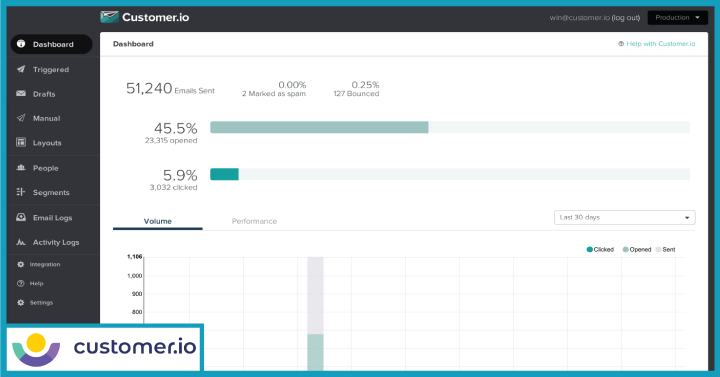 Designed for sending email marketing, push notifications and SMS, Customer.io features a workflow builder that allows you to visualize how your marketing messages are sent depending on the rules you create. Targets can be segmented by the pages viewed on your website, product usage, demographics and more.
Prices start from $150 per month, with options to sync information with your data warehouse for more efficient analytics, as well as social media automation so you're not wasting ad spend.
5.2 ActiveCampaign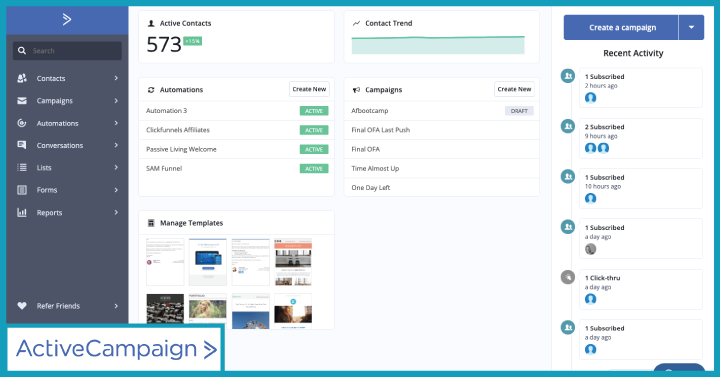 ActiveCampaign offers multiple levels of marketing automation for SaaS products, including for email campaigns, CRM and lead management to keep sales and marketing aligned – plus, it has a ton of templates to help you get started.
Their stackable omnichannel automation translates to more customization to suit your approach. Prices start at $29 per month for 1,000 contacts, including email automation, segmentation and campaign reporting.
5.3 Drip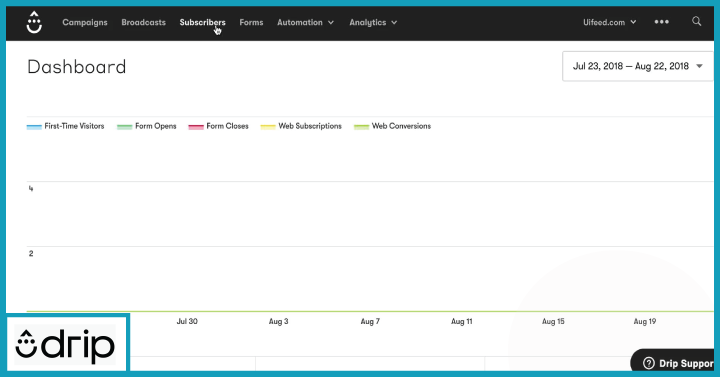 As the name suggests, Drip was built to facilitate drip campaigns, specifically those around e-commerce. Granular segmentation of customer interactions is a bit of a specialty, delivered through an attractive, easy-to-navigate user interface.
Prices start at $39 per month for up to 2,500 contacts, with unlimited email sends and email support.
5.4 Kontentino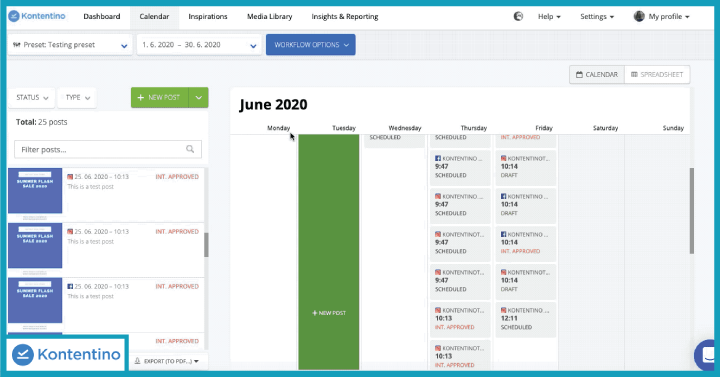 More of a social media specialist, Kontentino boasts a simple calendar interface for scheduling posts to LinkedIn, Facebook, Twitter, Instagram and Pinterest. These can be previewed for both desktop and mobile, to make sure your marketing looks good on any device.
The program has an in-built messaging service, so teams can comment and discuss upcoming posts in real-time. Prices for the basic package start at €44 per month.
5.5 Buffer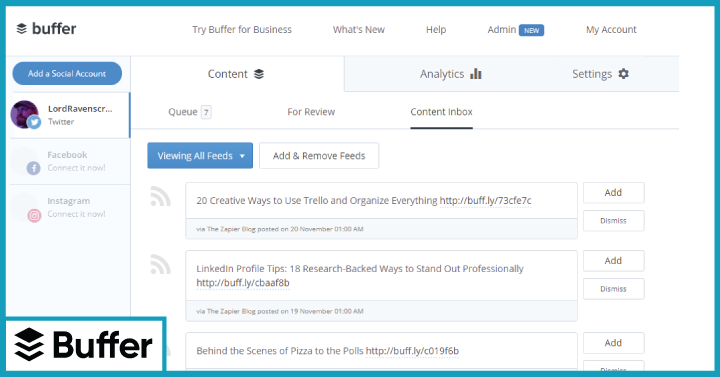 With more than a decade of experience helping companies automate their social media planning, Buffer helps you keep on track of what and when you're posting on LinkedIn, Facebook, Twitter, Pinterest and TikTok, with a handy tool to monitor any comments so you can reply faster built into the dashboard.
Prices start from $4 per month per channel, including publishing tools, analytics and a landing page builder.
5.6 Hootsuite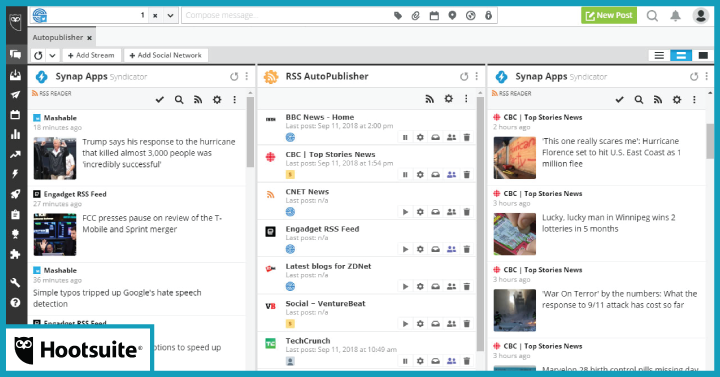 Getting you up to speed with the social media tout suite is the goal of Hootsuite, another one of the example of marketing automation. In addition to an easy-to-use calendar interface, the solution also enables users to curate streams of content, so they can monitor competitors and trends in their area.
Prices start from $39 per month for one user across 10 social accounts with unlimited posts. More expensive options come with a content library, social ads analytics, and productivity reporting.
5.7 Userpilot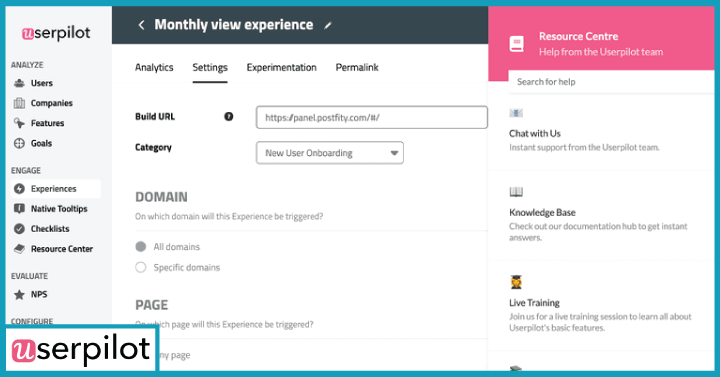 Userpilot focuses on automating the processes around onboarding new users of a SaaS solution and increasing engagement with a product's features. Build A/B testing scenarios to improve utilization and customize user interfaces without any need for coding.
Prices start at $249 per month for up to 2,500 monthly active users, including tracking, growth insights and user sentiment surveys.
5.8 Pendo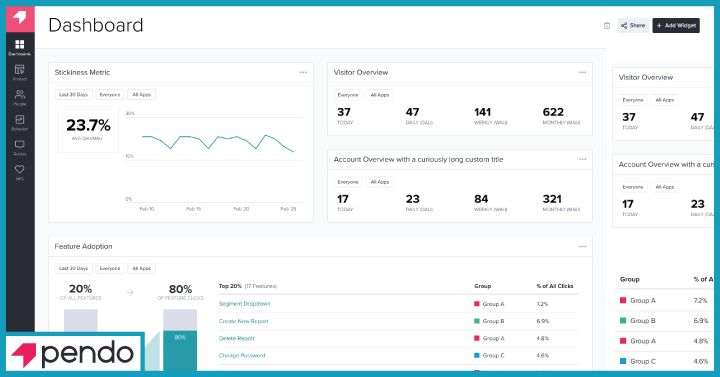 Increasing stickiness through seamless onboarding and engagement, Pendo provides the analytics tools necessary to see what features of your SaaS offering are most popular with customers and which could use some improvement or promotion. Through product engagement scores (PES) and net promoter scores (NPS), 95% of teams that use Pendo see an increase in feature adoption.
Prices are available upon request and can be geared towards a full package offering or an a la carte selection of particular attributes. There's even a free version that acts as a sampler for some of the behavioral analysis functionality.
5.9 WalkMe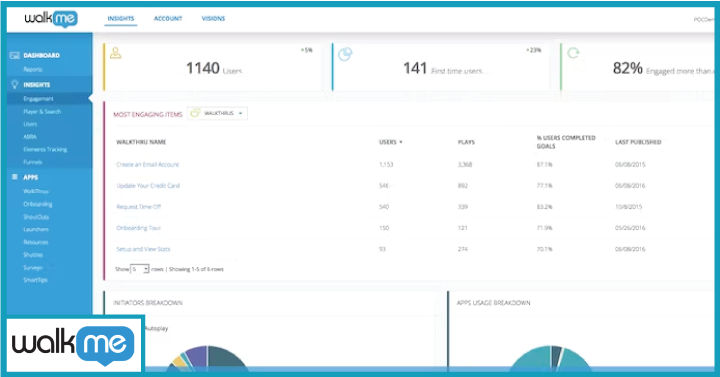 Another no-code platform that facilitates marketing automation for SaaS, WalkMe's Digital Adoption Platform pairs workflow analytics with the ability to instantly and easily change in-app notifications to promote better engagement across your customer base.
Prices are available on request and include process completion rate tracking, customizable reports and NPS feedback.
5.10 Intercom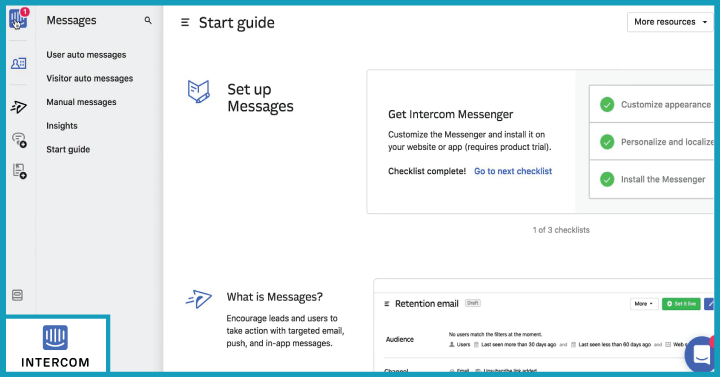 One of Intercom's big automation for SaaS ideas was to create a messenger bot to drive more conversions, more engagement and more tech support. Companies can customize conversation flows to suit their product website's demands, complementing this with targeted email marketing and data dashboards.
Prices for small businesses start at $74 a month, including integrations with Slack, HubSpot and Pipedrive.
5.11 Zendesk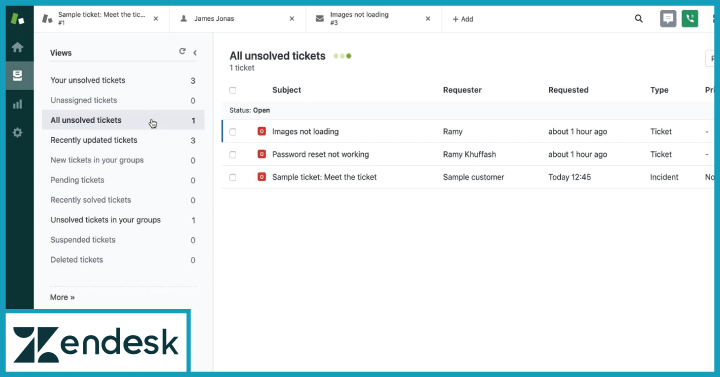 Similar to Intercom, self-service support is a core feature of Zendesk, which offers suites for sales and/or for customer help as part of marketing SaaS products. The software automates CRM for enhanced productivity and comes with an artificial intelligence-powered bot.
Prices start at $19 for the sales package or $49 dollars for the customer service package.
5.12 HubSpot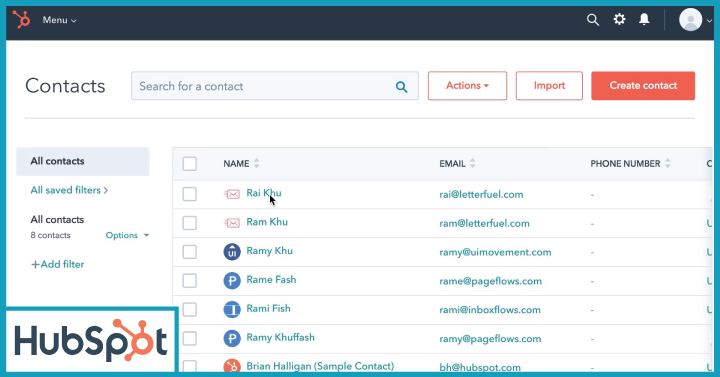 One of the most popular tools for marketing automation for SaaS, HubSpot helps companies build up their outbound email strategy in response to triggers like form filling and landing page views, at the same time as providing tips on constructing landing pages and social media strategies. 
Prices start at $45 a month for 1,000 marketing contacts, though more expensive packages might be worth it for those who want access to analytics, A/B testing and campaign management tools.
5.13 AdRoll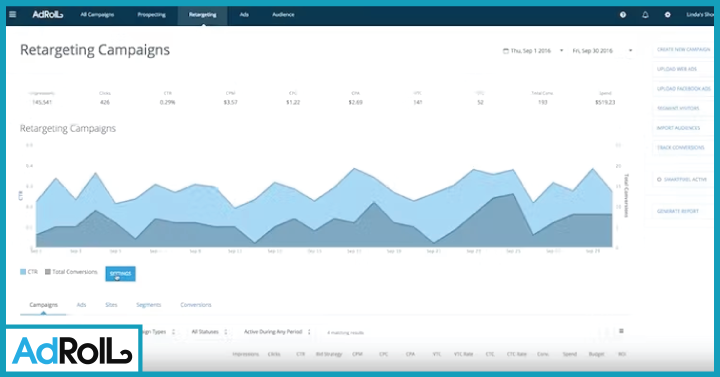 Primarily a platform to drive advertising automation, AdRoll also offers some email marketing capabilities, too. All the major social platforms can be connected up with one interface that draws upon historical and fresh data to help you visualize how your strategies are performing and deliver better ROI.
Prices start from $36 per month for up to 1,000 unique visitors, including audience segmentation and cross-channel retargeting.
5.14 Adzooma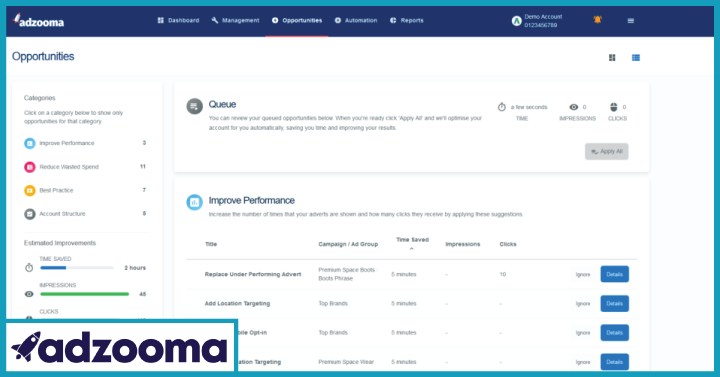 Adzooma integrates Google, Facebook and Microsoft advertising into its interface, so you can set up all your rules for your pay-per-click ads in one space and then let your campaigns run. While it has very specific functionality, this SaaS marketing automation software does have clever features such as automatically pausing spend on low-performing keywords and suggesting ways to improve your reach.
Adzooma's basics are completely free, but for the more advanced SEO analysis and automation templates, you'll have to splash out at least $99.
5.15 AdExpresso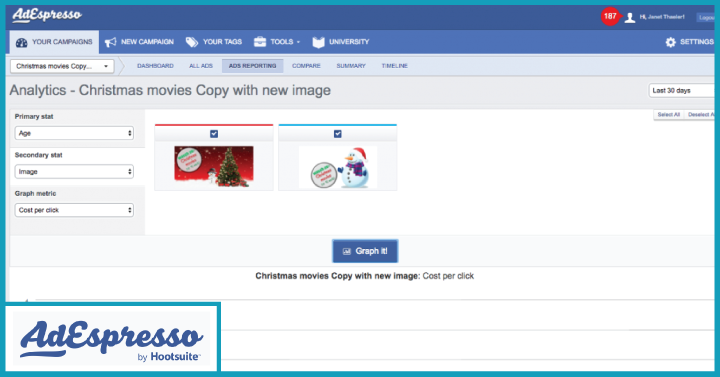 Owned by Hootsuite, AdExpresso lets you setup and sync your Facebook, Instagram and Google online ads in one place, complemented by an analytics dashboard as well as a library of webinars and courses on marketing strategy.
Prices start from $49 per month with an ad spend limit of $1,000.
5.16  Hotjar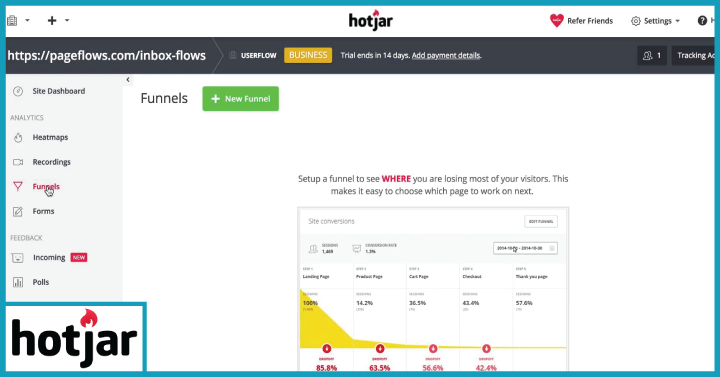 Hotjar is less a typical marketing automation tool for SaaS and more of a way to receive customer engagement reports on a regular basis. You can examine heatmaps that show where users scroll and click on your website or review recordings of customer behavior while browsing product pages. More directly canvassing for customer opinion, Hotjar also provides suggestions boxes for feedback as well as surveys.
All of this can be adapted for local compliance regulations and costs €80 per month for 1,000 monthly responses – though there is also a free version that can accommodate 20 if you want to test out the service.
5.17 Semrush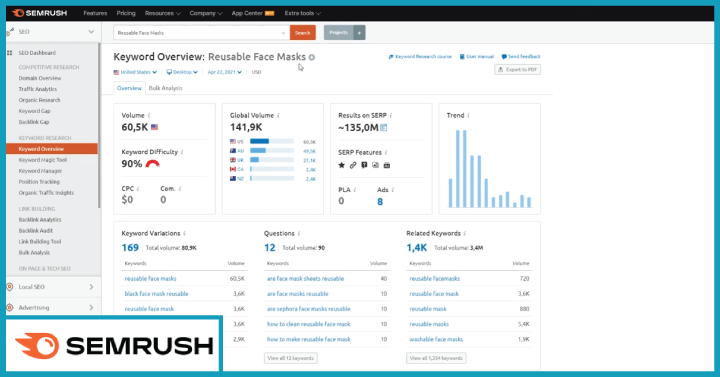 Automation for SaaS ideas doesn't come any more SEO focused than Semrush, which is probably best known for search engine optimization and keyword research. Included are tools that audit your site's backlinks, tools that monitor any mentions of your brand, and tools that generate engagement reports. 
With prices starting at $119.95 per month, Semrush is one of the more expensive choices out there, but it offers a powerful engine for site improvement.
5.18 RelayThat
While not the most obvious SaaS automation tool for companies to think about, RelayThat's snappy, stylish graphics are a boon for any company that wants to appear slick and professional. Build consistent branding across all your assets, minimal skill and effort required.
Prices start from $15 per month per user, including image SEO automation and team-sharing functionality.
5.19 AeroLeads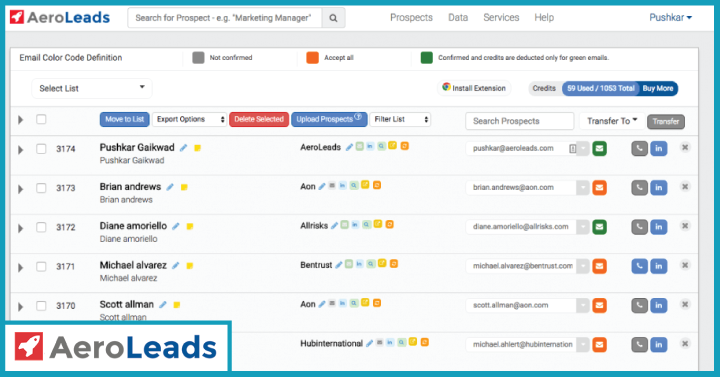 Taking over some of the most tedious tasks associated with lead generation, AeroLeads boasts a database of more than 650 million professional profiles that are updated in real time and can be filtered by job title and company type in just a couple of clicks. It can also scrape LinkedIn for prospects via a browser plugin.
Prices start from $49 per month, though you'll have to pay at least $149 if you want to integrate the solution with platforms like Salesforce or Zoho CRM.
5.20 Typeform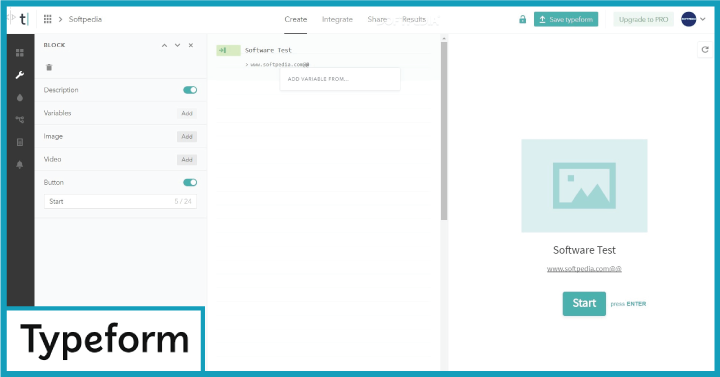 Principally used for garnering user data through forms and surveys, Typeform makes it easier to generate questionnaires that identify lead opportunities and possible causes of churn, as well as pinpoint opportunities for collaborative marketing for SaaS. You can also opt-in for their customizable chatbot.
Prices start at $25 per month, including 100 responses, unlimited type forms, and unlimited questions.
5.21 ZOHO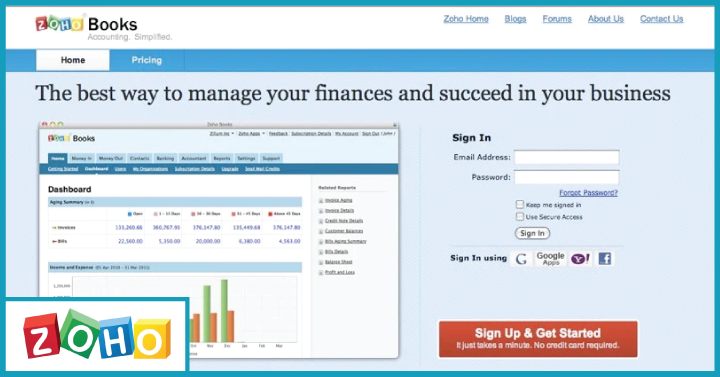 Use pre-prepared templates or make your own with ZOHO's easy-to-use flow builder, which triggers automatic messaging across email, social media and SMS depending on the actions of your customer.
Prices start from $35 for 25,000 visitors, including lead management, behavior tracking and lead scoring.
5.22 GetResponse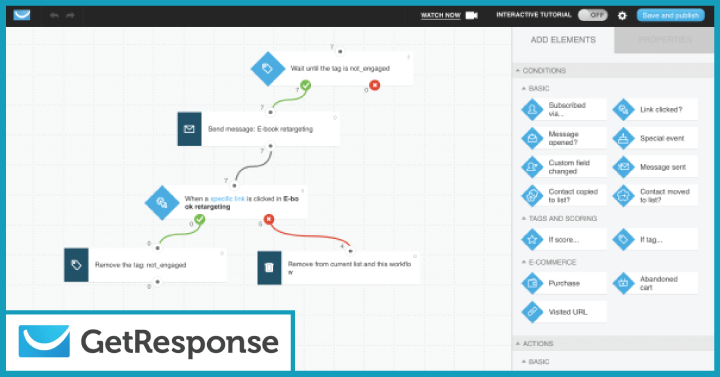 With GetResponse you can preset marketing communications according to customer clicks, product downloads or your custom assigned tags, easily subdividing populations according to behavioral analysis.
Prices start from $15 per month for 1,000 contacts, including basic segmentation and email scheduling. More advanced features are available for higher account brackets.
5.23 Ortto (formerly Autopilot)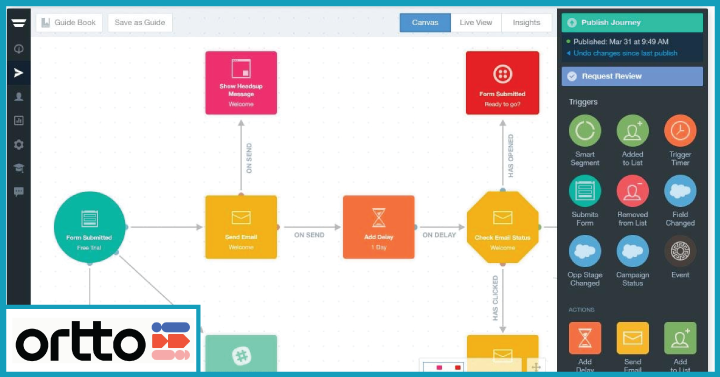 Automatically direct prospects down the right sales funnel with Ortto's inbound marketing and account-based marketing capabilities. Designed specifically with SaaS in mind, Ortto allows you to build event-triggered journeys that lend a personalized feel to customer interactions, with the in-built data platform fueling analysis-based decisions.
Prices start from $29 per month, including 2,000 contacts and 8,000 emails.
5.24 Encharge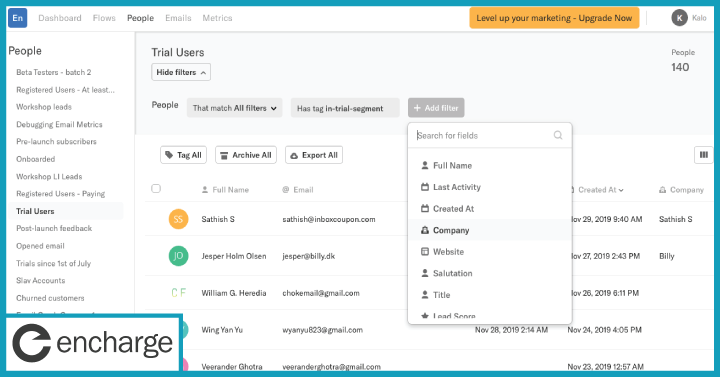 This is the one for startups and small businesses who don't want to get ensnared by software that is primarily designed for enterprise-level SaaS. Encharge features a flow builder, user segmentation, onboarding templates, lead scoring, A/B testing, and more to take the legwork out of conversion and retention.
Prices start from $49 per month for up to 2,000 subscribers.
5.25 User.com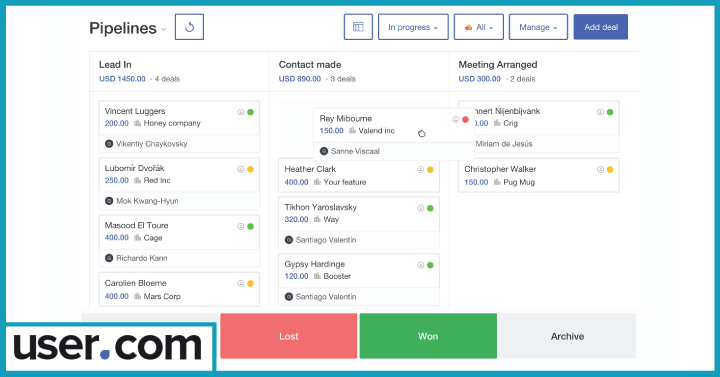 User.com comes with a large library of templates to get you started with your marketing automation, though users can also create their own emails and popups from scratch. Drill down into your existing and potential customer base with analytics filters, then automate communication through push notifications, chatbots and SMS.
Prices are available upon request.
5.26 Vidyard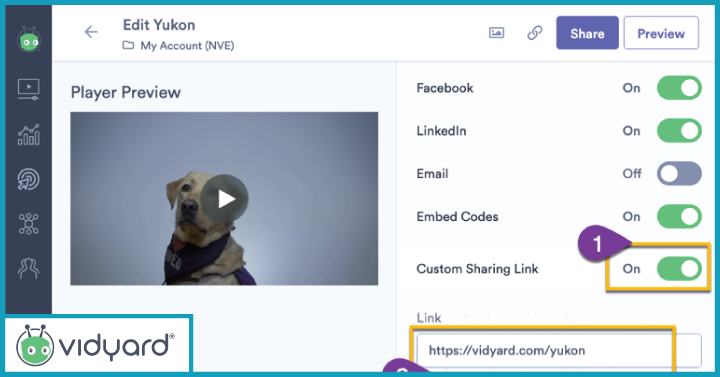 Customer onboarding, software demos, marketing videos – all can be created with Vidyard, a tool that makes it simple for even the most unfortunate luddite to create attractive visual content. This content can then be automatically sent out according to certain triggers or when prospects reach a certain point in the sales funnel.
The free plan allows the creation of up to 25 videos, while the pro plan at $19 boats unlimited creation and data insights.
5.27 Tableau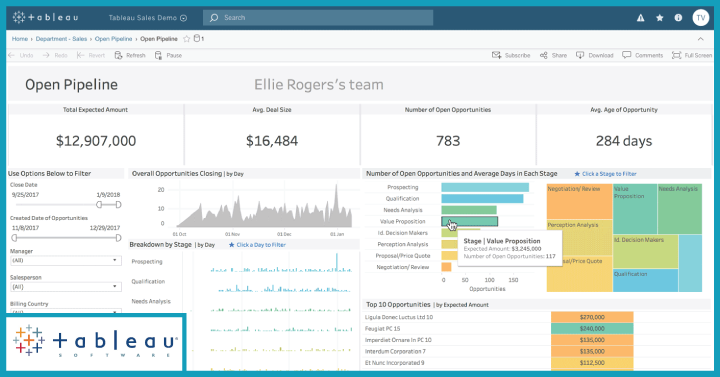 Marketing automation analytics is the principal use case for Tableau, which boasts an advanced data platform that can harvest social analytics, web analytics, customer data, ultimately leading to better purchaser profiles and more customized interactions.
Prices start from $70 per month.
5.28 Pandadoc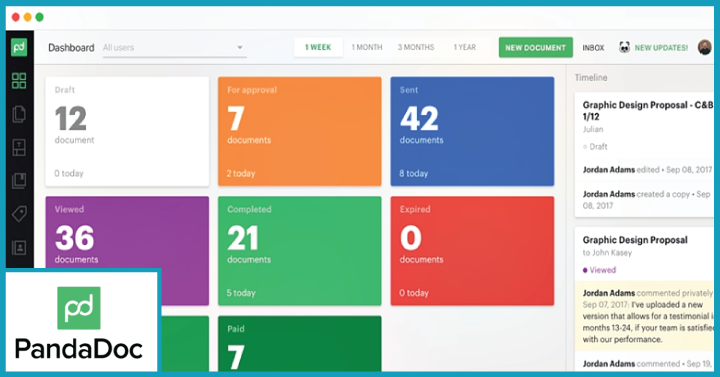 PandaDoc increases close rates by 36% through its drag-and-drop platform, which allows for easy creation and update of document templates, complemented by automated workflows and analytics.
Prices for the complete package start from $49 per user per month, though if you just need document templates and editing it's $19.
5.29 Wistia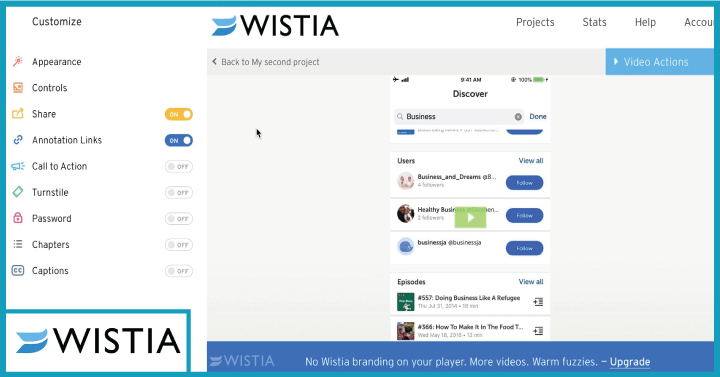 Where Vidyard relies mainly on speeding up the video creation process, Wistia helps you not just film your own visual content, but also share and market it, with an analytics engine to see how well each clip performs with your customers.
The free version includes 10 videos, while the cheapest paid version ($19) includes 20 plus lead capture forms.
5.30 Albacross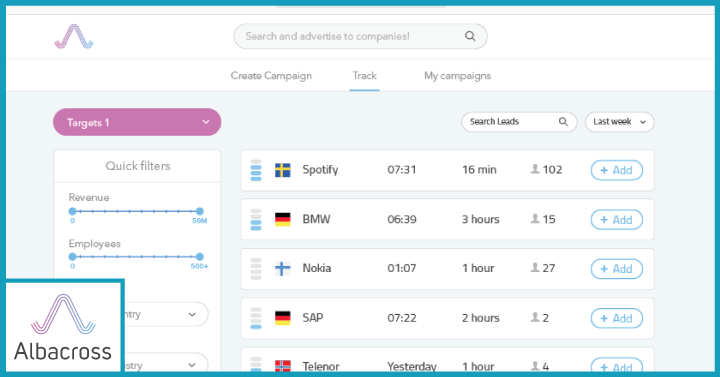 A further entry in the analytics automation category, Albacross has more than 100 data points for SaaS companies to select from, whether your focus in a particular campaign is on micro conversions like website visits or page views, or actual purchases resulting from your sales cycle. 
Perhaps the most attracting aspect of Albacross is its intent data metrics, whereby you can see the quality of the leads your marketing is generating. Prices are available on request.
5.31 Ahrefs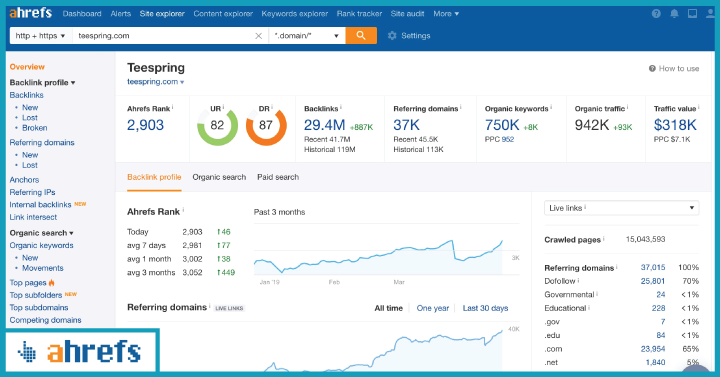 SEO tools for all scenarios are offered by Ahrefs, which features a detailed dashboard of data-based on-site audits, competitor analysis, keyword research, content analysis and SERP tracking.
Prices start at $99 per month with wide-ranging functionality, though more sophisticated analyses are reserved for costlier plans.
5.32 Postaga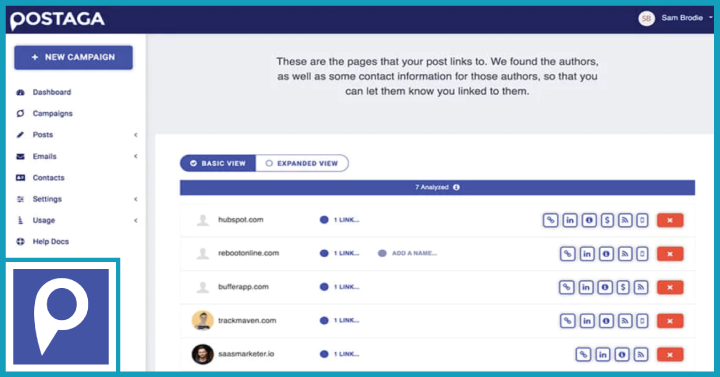 Backlink automation is the name of the game at Postaga, which helps businesses locate appropriate websites to approach, in order to build up their inbound links and thereby improve SEO. As well as searching for opportunities according to your specified objects, the software automates outreach emails while still lending the appearance of personalized communication.
Prices start at $99 per month for up to 2,000 contacts and 10,000 emails.
5.33 Hunter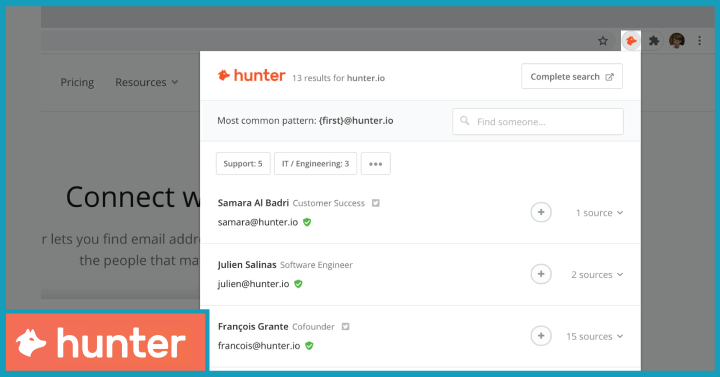 Like AeroLeads, Hunter aims to simplify the process of finding the right email addresses and roles within a company to target with your marketing. Once you've found them through the platform's database, you can then construct a cold-call email campaign using suggested templates.
Prices start from $49 per month for 500 searches (there is a free version, but this has limited usability for most businesses as it only includes 25 searches).
5.34 Marketo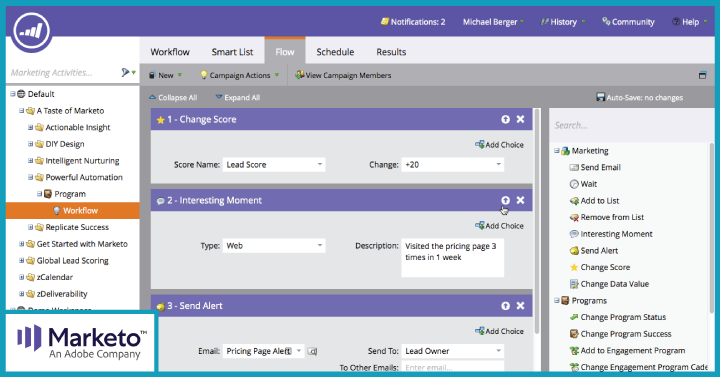 Owned by Adobe, Marketo is a full-service marketing automation for SaaS products that builds multiple flows for prospective customers, prioritizes quality leads, and keeps customers engaged with a templated onboarding process and ongoing education about product features.
Prices are available on request and are based on your database size.
6. Some Marketing Automation for SaaS Examples
6.1 Relativity
Legal and compliance software Relativity used Marketo's solution to increase webinar registrants by 30%, resulting in more quality leads. Emails automatically triggered by customer actions also led to vastly faster response times, improving customer satisfaction.
6.2 Guardio
Cybersecurity firm Guardio used Customer.io to build multiple campaigns for customers in different parts of the sales cycle. While they spent a good deal of time creating around 400 event triggers to trigger according to various unique user attributes, from there they were able to ensure automated personalization.
About Us
Growth Ganik is a rapidly evolving digital marketing agency in Sydney, Australia that specializes in SEO, content marketing, marketing strategy and lead generation.
We work with clients from leading brands and industries such as B2B SaaS, nonprofits and more to develop profitable digital marketing solutions that are data-driven to support all kinds of business goals from widening user bases, gaining more traction for online engagement, to increasing conversion and helping businesses scale up. 
For creative tailor-made digital solutions and sustainable growth insights, get in touch with us!