Email marketing for nonprofits can work wonders, when done right. Not only can it help you reach your existing supporters but also help you engage new audiences, promote your cause and boost more brand visibility.
It goes without saying that in the digital era there are plenty of channels that can be used to engage and connect with your members. Now the problem is that almost every organization is probably thinking along the same lines. So, how do you differentiate from the crowd? Well, that is what we are here to help you with.
To read about our comprehensive article on digital marketing for nonprofits, click here.
1. What Is Email Marketing For Nonprofits?
Email marketing for nonprofits is a direct marketing strategy that allows you to communicate with donors, supporters, and other prospects via electronic mail. This form of marketing works great for nonprofits as it helps in reaching out to a targeted and curated list in the hope to elicit an action that works for the nonprofit i.e. receiving donations, and getting sign-ups.
There are 4 primary kinds of campaigns that email marketing for nonprofits send out. These are- newsletters, fundraising campaigns, thank you emails, and welcome series. We will be talking about these in detail in the upcoming sections.
As a nonprofit, there are two types of email marketing that you undertake. The first is outbound email marketing. In this type, you send out messages to a cold list of emails and market your product/services to them. The other one is inbound email marketing- these are lists curated with the information that people willingly give to you. Examples of this include registering through your website or subscribing to your newsletter.
2. Why Nonprofits Should Use Email Marketing?
Well, there are plenty of reasons, but the two that jump out are the Return on Investment (ROI) and the ability to reach larger audiences that you might not be able to through other forms of marketing. As a nonprofit, you are usually working with tight budgets and it becomes all that more important to be able to make the most of the limited budgets you have. Email marketing can get you around $42 for every $1 spent.
Other benefits include developing a loyal user base, expanding your reach, and driving more donations towards your cause. Another reason why email marketing for nonprofits is lucrative is that you can do a lot with very limited resources. All you need to do is learn how to craft the message in a manner that is effective and reaches the right audience.
3. Types of Email Marketing Campaigns For Nonprofits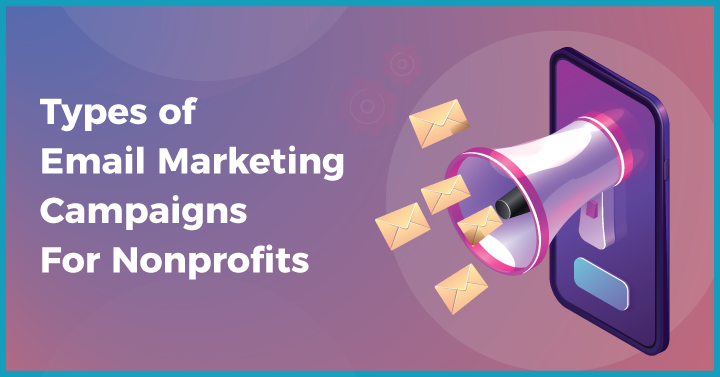 3.1 Newsletters: To Update and Educate
Newsletters are informational updates that you send to keep your community in the loop and constantly create opportunities for them to engage and better understand the work that you are doing.
As a nonprofit, the work that you do is constant and important. You know this, others not so much.
A newsletter should be informational instead of promotional. While the bottom line is to raise funds, other forms of email communication can help you can share important updates like;
On-ground stories
Educational links- you can always link to your blog
Upcoming events and volunteer opportunities
Updates on the current running campaigns
Spotlight series – profiles of staff members, volunteers and supporters
3.2 Fundraising Campaigns: Calls To Donate
Fundraising campaigns are designed to raise funds for your cause. When you are looking to appeal for funds through emails, these are campaigns you should run. Keep the email short and sweet, ensuring that the focus is on the action that you want your recipient to be following through on i.e. donating.
As effective as email campaigns are, it is important to remember that it is easy to miss out on emails and so try and build an email sequence to ensure that you send follow-ups to people who did not initially engage with your email.
3.3 Thank You Messages: Highlight Their Impact
Thank you messages are the emails that are sent to users when they donate to your cause. It is important for your supporters to know how they are making a difference through their contributions.
Send these emails the moment you receive a donation which should ideally be automated with an email marketing automation tool. It is important that you automate these emails as the last thing one wants is your supporter to wonder if you received their donation.
3.4 Welcome Series: To Introduce Yourself
A welcome series introduces new people to your work by using that initial interest and making them your supporter. This series should ideally contain a thank you email (for their interest in your cause) , a background of your organization, your action plan, and how they can be involved with your work.
When people first start associating with your nonprofit, chances are they aren't sure about how much they want to contribute to your cause. There are not many people who will dive in head-first. This means that the onus lies on you to slowly introduce them to what you are doing and how you are creating an impact. This is where a welcome series comes in handy.
4. Best Email Marketing Platforms For Nonprofits
4.1 Flodesk: An Intuitive Email Marketing Tool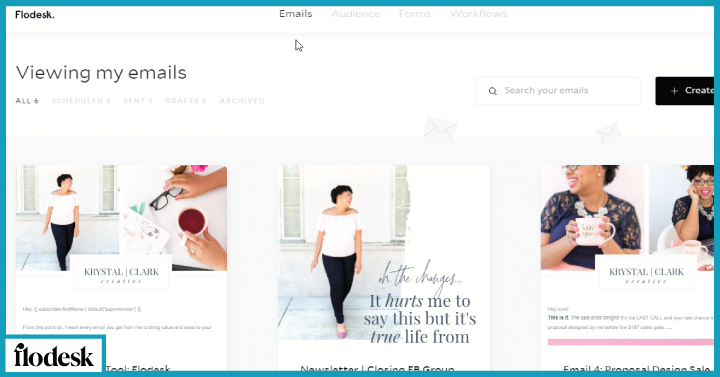 Flodesk is a relatively new email marketing tool but even in the short amount of time it has created an impact. The platform is designed keeping in mind smaller teams. It features a curated selection of templates that help you start from something concrete instead of scratch thus helping you save time. On top of this, they offer an intuitive drag and drop email builder, which helps you customize emails quickly which we think makes it a great choice when you need to reach out to people on a short timeline.
You have the option to create custom graphics, collages, and signatures, all on the platform, with no need to use any other design software. We think the templates are easy to use and can help as convenient start-points to build great campaigns.
You also have access to workflows and forms, along with the ability to connect with over 3000+ apps via zapier to automate tasks.
Price: 50% off for Nonprofits and a 30-day free trial.
4.2 MailChimp: Best Marketing Automation Software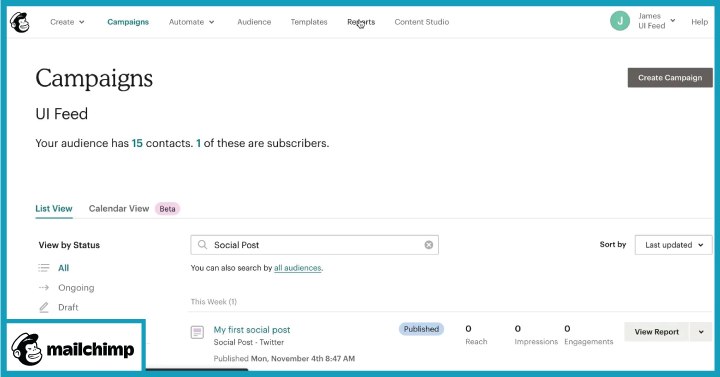 It is impossible to not have heard about MailChimp. If you are looking for email marketing for nonprofits, this is possibly one of the best introductory tools around. We especially loved the marketing automation that helps you set triggers (like a time, date, or action) for emails to be sent out based on customer behavior. This feature helps it stand out from the rest on this list.
Some other really amazing features include the ability to target customers based on actual data like behavior and preferences, sending emails with the help of a single API request, and having access to a large number of reporting insights. This software also allows you to simultaneously grow your audience with the help of Facebook and Instagram ad campaigns. As a nonprofit, this is the tool you should go for as it is easy to use and most features are tweaked in a manner that makes designing campaigns a breeze.
Price: 15% off for Nonprofits, along with an additional 10% if you add two-factor authentication to your account.
4.3 Campaign Monitor: Easy-To-Use Email Marketing Tool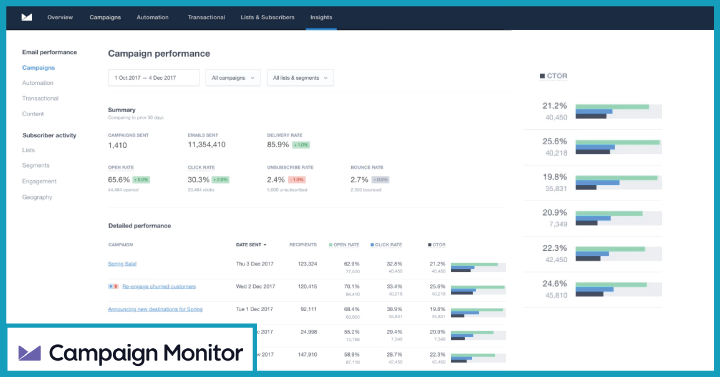 As someone who is in charge of email marketing for nonprofits, you obviously want something that is easy to use and Campaign Monitor is exactly that. Everything you need to run an effective email campaign is provided to you on this platform. It features a drag-and-drop email builder along with access to a number of templates to make it easier for you to design your campaign.
We love the sheer number of customizations available with this software. Personalized customer journeys can be created that allows you to schedule emails to be sent depending on the buttons that the user clicks. As a nonprofit, you will find this information helpful to create better user journeys for your prospective donors. Campaign Monitor also has a number of analytic tools present that help you understand how your campaign is faring.
Pricing: 15% off for Nonprofits
4.4 EmailOctopus: Best Value For Money and Feature Match
EmailOctopus is the ideal platform if you are looking to create time-sensitive and drip emails. They offer a large library of free email templates, to begin with, and allow you to create campaigns that are not only visually pleasing but also highly responsive. Other features include import contact lists, form integration, and customized reports.
If you are looking to get free email marketing for nonprofits this is the one you should go for. We found it easy to navigate and with the ability to import contact lists a lot of redundant tasks like manually entering data were removed along the way.
Pricing: 20% off for Nonprofits. A free plan is available as well.
4.5 AWeber: Best Connectivity With Other Applications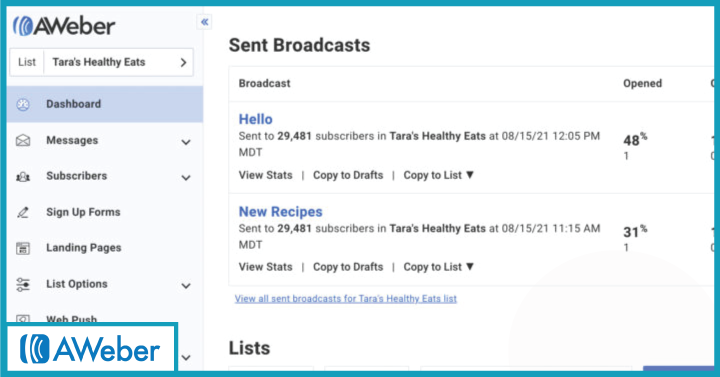 Old school is the best way to describe AWeber. This particular tool has been around for a while but it still has a lot to offer in terms of functionality. We found the opportunity to save searches as a custom segment extremely helpful. This is essential if you are looking to create specific campaigns( which as a nonprofit you usually are). You can add up to 25 additional fields in the forms, this helps in the right segmentation of the audience.
Price:25% off for Nonprofits. A free plan is also available.
4.6 Benchmark: AI-Driven Email Campaign Tool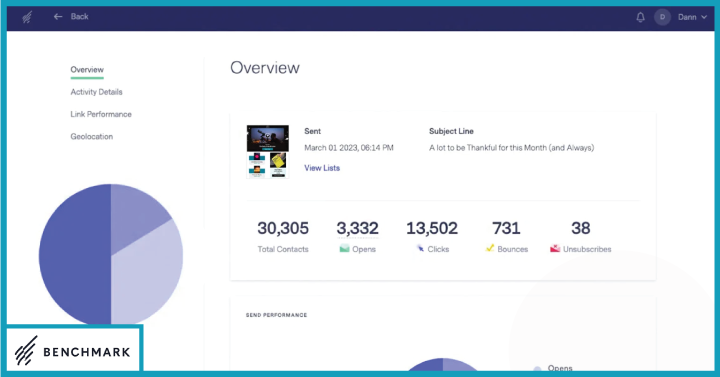 AI-driven and user-friendly, Benchmark is a great application if you are just beginning your email marketing journey. There is not much you have to do thanks to the suite of smart email marketing tools that are offered by Benchmark. You have a drag-and-drop builder to create emails with ease, an HTML editor if you are looking to customize, and an option to create a list with RSS emails. This way every time you make an update in your blog or RSS feed your subscribers get an email.
For us, the option to create an automated RSS list was extremely beneficial as it ensures that your community is always in the loop as they receive automatic updates.
Price: 25% off for Nonprofits. A free plan is available as well.
5. Effective Email Marketing Strategies For Nonprofits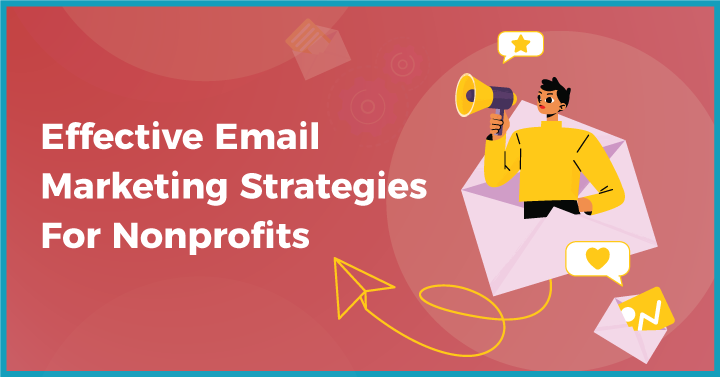 5.1 Develop a contact list
The first step to building a nonprofit email marketing strategy is to develop a good contact list. Focus on finding people who connect with your cause and want to support you in the long run. There are two kinds of contact lists you can develop.
One is the warm inbound contact list that you would create with a lead magnet. This can be anything- an infographic, a whitepaper, or a free downloadable toolkit. It will help you build a list of people already interested in your cause. The second is a cold outreach list that is usually created by scraping through people's email address details.
5.2 Form a welcome mail
As much as you would want to, it is a bad practice to ask for donations right away. You have to slowly ease into the process. You can do this by creating a welcome email series (as mentioned above) as part of your nonprofit email strategy. You need to build a relationship with your audience. Do this by sending out a message from your CEO, followed by stories that highlight the impact of your nonprofit.
5.3 Personalize your emails and write short subject lines
Personalisation is something as simple as using your subscriber's first name in the subject line. It's a small touch but it goes a long way in highlighting that you care about the subscriber. Another aspect of an email campaign that is often treated as an afterthought is the subject line. Your subscriber won't even open the email if the subject line is not catchy enough, so pay attention to that. Try A/B testing and experimenting with your subject line before you actually send it out.
5.4 Deliver compelling messages
Craft an engaging email. This goes without saying but at the end of the day if your email does not deliver the intended message in an engaging manner you might just find yourself with a dud for a campaign. Keep the messaging clean and crisp while email marketing for nonprofits. Highlight your point via statistics and use graphics wherever you can.
5.5 Feature one to four news stories in the mail
Consider the intent of your email when you feature news stories in the email. When you are sending out a fundraising email it is always better to focus on one story as that creates a direct connection with the audience. But if you are sending a newsletter you can feature up to 4 stories as that is an update email.
5.6 Monitor and analyze performance to improve engagement
Email marketing for nonprofits can only be as effective as the statistics tell you. This is why you need to constantly monitor and analyze every aspect of your campaign. An email campaign is not a once-and-done thing. It is one that requires you to be constantly aware and make changes on the fly. This is also why you need to take care that you pick an email campaign platform that allows you to collect this data.
6. Nonprofit Email Marketing Examples
Keeping it simple, is the mantra that Charity: Water follows. They are a nonprofit organization that aims to bring safe, clean drinking water to people in developing countries. Their emails are designed in a manner that highlights their impact on the ground through stories and visuals. By limiting the text they put in the email, they give you an incentive to click through.
Their newsletter is informative while being visually appealing. What sets them apart however is the list of resources they provide at the end of each newsletter. These consist of recommended further reading and podcasts. So, when you are designing a newsletter, it is always advised to link out to relevant resources that help highlight your larger cause.
7. FAQ's
How many emails should you send for a fundraising campaign?
As a general practice, it is advised that a nonprofit should send out 2 emails for an email fundraising campaign. in a month.
How often should Nonprofits send emails?
A nonprofit should send 2-4 emails in a month. They should ideally be a combination of a fundraising email, a survey, a case study, or a volunteer story.
About Us
Growth Ganik is a rapidly evolving digital marketing agency in Sydney, Australia that specializes in SEO, content marketing, marketing strategy and lead generation.
We work with clients from leading brands and industries such as B2B SaaS, nonprofits and more to develop profitable digital marketing solutions that are data-driven to support all kinds of business goals from widening user bases, gaining more traction for online engagement, to increasing conversion and helping businesses scale up.
For creative tailor-made digital solutions and sustainable growth insights, get in touch with us!