Social media is an interactive form of technology that enables users to create and share information. So do nonprofits need social media? The answer is yes! Nonprofit institutions need tools to publicize their existence in different ways and unquestionably, social media platforms are the best place to gain identity and marketing. Social media for nonprofits in 2022 can be used for fundraisers, recruiting volunteers, or simply sharing information related to their cause.
In this article, we discuss the impact of social media for nonprofits. Continue reading to learn how nonprofits can use social media to leverage their reach.
To learn more about social media for nonprofits, read our detailed articles on Instagram for nonprofits, TikTok for nonprofits, LinkedIn for nonprofits and YouTube for nonprofits.
To read about our comprehensive article on digital marketing for nonprofits, click here.
1. Why Should Nonprofits Use Various Social Media?
Often nonprofit companies and institutions face trouble marketing their existence and raising funds. The target audiences of nonprofits are those potential donors and volunteers who get aware of the needs of deprivation.
It is challenging to build awareness among the target audiences and make them ready to donate and support. Moreover, most nonprofits have limited budgets and this becomes a challenging task to spread the word about the organizational existence through hefty marketing budgets. If a social media strategy for nonprofits is applied, social media could benefit nonprofit organizations immensely.
2. What Are the Different Types of Social Media for Nonprofits?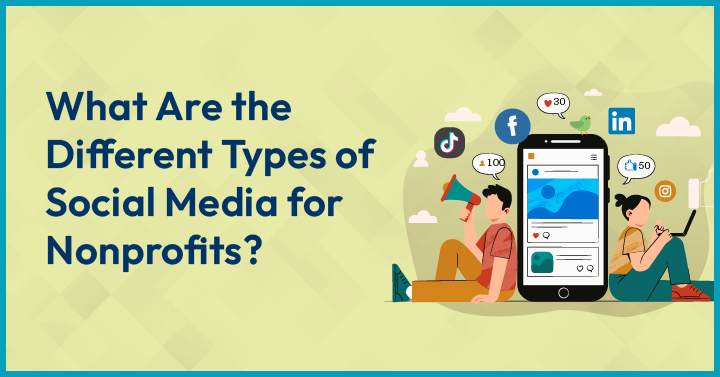 In 2020 and 2021, more than 50% of donors said that social media is the best way to learn about new causes and support their regular campaigns. This tells us that there are a lot of benefits of social media for nonprofits, and having a social media strategy for nonprofits that incorporates numerous platforms is vital to garner widespread support for your cause. Here are the most popular social media platforms:
2.1 Facebook
Facebook is a social networking platform that is used to connect with a wide range of masses belonging to different demographics. This social media for nonprofits has specific features for fundraising and it can also be used for raising awareness among people for different causes. Because of the benefits of this social media for nonprofits, 93% of NGOs worldwide have a Facebook page.
2.2 Instagram
Instagram has developed as a tool for businesses to advertise their goods and services, share information about their corporate cultures, and participate in their stories in more interesting ways.
Moreover, Instagram is a social media for nonprofits to share their mission, promote funding, ask for donations, and demonstrate their effect through one of the most powerful and emotional visual mediums.
2.3 Twitter
Twitter users utilize the service to stay up to date on breaking news and to view real-time commentary from celebrities, influencers, and politicians. Thus, Twitter is considered an ideal social media for nonprofits to promote the causes they care about, to be a strong voice in their sedentism, and to establish and grow a community. There are a lot of positive things that Twitter will enable for organizations.
2.4 WhatsApp
WhatsApp is the information exchange medium that offers nonprofit services a remarkable chance to interact with stakeholders through handbooks, attachments, and various types of interaction supplied to their mobile phones as well as their desktop facilities. According to recent statistics, there are more than 1.5 billion WhatsApp users who communicate 100 billion times per day on average
2.5 Pinterest
You may share your information, such as pictures or websites, with people all in one location using Pinterest. Building relationships is one of the most crucial aspects of running a non-profit organization. They can organize an auction or sell those items/products for fundraising with this easy-to-use social media for nonprofits.
2.6 TikTok
An unlikely addition to the list at first glance, TikTok is one of the fastest growing social media platforms in recent history, having reached the prestigious '1 billion active monthly users' list.
TikTok supports nonprofits and charities through their donation sticker feature and the ability to feature a nonprofit for support on your profile. TikTok also partners with charities for their TikTok for Good campaign, which focuses on promoting hashtags that spread awareness for social issues.
2.7 LinkedIn
LinkedIn is a social media platform for professionals. It has a growing community of career-oriented individuals signing up to connect and network with peers and professionals who are well-established in their careers.
With LinkedIn you can spread your nonprofit presence in a relatively professional social sphere and network with resourceful people who can lend their support to your cause.
3. Which is the Best Social Media for Nonprofits?
Facebook can be deemed as the king of social media, with 2.94 billion active users in 2022. Other than being the most popular social media, till 2019 people had raised over $3 billion for personal fundraisers and nonprofit causes on Facebook. It has some other features as well which prove that it is the best social media for nonprofits like:
Page Fundraisers
Supporter Fundraisers
Fundraiser Matching
Payment & Reporting
Thank You Tool
Recurring Donations
Fundraiser API
Birthday Fundraisers
Profile Frames
Fundraiser Sticker
4. 10 Best Social Media Strategies for Nonprofits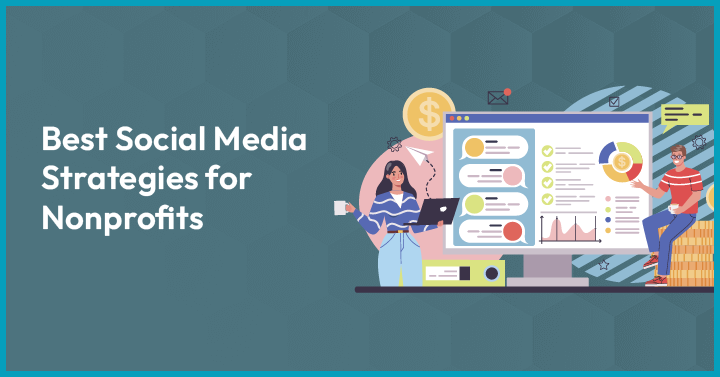 The following list will provide you with social media strategies for nonprofits, and make you aware of the benefits of social media for your nonprofit venture.
4.1 Set up the NGO's account on different social media
According to social media trends for nonprofits, setting up proper NGO accounts across various platforms is the most important step for nonprofits. No matter which social networking platform you use, be sure to include your location, personal details, and a link to your own website. Make it as simple as possible for people to contact you.
Most social media for nonprofits have tools and resources just for NGOs. Non-profit organizations can organize fundraising through their accounts and include "donate" buttons on their Facebook and Instagram pages.
The pros of creating a social media account for nonprofits are that they would be able to educate the masses, engage a community with them which would benefit their purpose, easily recruit volunteers, and fundraising would become easier for them.
Social media for nonprofits should be chosen according to the type of material organizations want to post, and the community they want to target. Early on, the Humane Society of the United States (HSUS) began using social media. Despite having a sizable following on Twitter and other social media sites, Facebook is where they make their money. Approximately $200,000 per year, or 5% of their donor funding, came from this platform in 2013.
4.2 Post regularly
Social media for nonprofits should be used consistently to stay in touch with the people. It would be better if nonprofits use a content calendar which "is an overview of your upcoming social media posts, organized by date".
Additionally, if you oversee a nonprofit, then we would suggest you maintain your posts/content in line with your organization's objectives. One must speak using the more compassionate aspects of mankind since your nonprofit is interacting with them through your posts or content. Another crucial aspect is showing the empowering side of your activities rather than concentrating on the unfortunate circumstances that your targeted group may be experiencing.
Pros of posting regularly will keep your audience engaged with you while the important thing is to post "regularly" not to post "daily". If you post daily there is a possibility that the audience might be overwhelmed by your content.
The St. Jude Children's Research Hospital posts regularly on their social media pages sometimes more than two times a day. In 2021, they got a private donation of more than 2 billion.
4.3 Understand your audience
To understand your audience, utilize Facebook and Google Analytics to learn more about your site's visitors, their favorites posts, and the issues that most resonate with them; Conduct a donor survey by creating a list of your potential donors and their demographic, psychographic, and social characteristics such as age, sex, education, and nationality; habits; interests; and values.
Create a media plan that is tailored to your ideal consumer profiles and interview your donors to learn about their priorities, motivations for donating, and preferred media.
Understanding your audience will help you learn who you are making your content for, and it would become easier for you to use social media for nonprofits. Every successful nonprofit is successful because they understand their audience and they produce content for them. The Humane Society of the United States is an example of that.
4.4 Create unique and genuine content
"Content is king" and unique and genuine content will become a more attractive tool that your targeted audience is motivated to share on their social media pages among their friends or followers. Sharing your true information with the audience will make your post/article distinctive.
There is no con to creating unique and genuine content, but the pro is that you will become trustworthy in front of your audience which would result in an increased number of donations.
The Nature Conservancy is a nonprofit that shares unique and genuine content with its audience.
4.5 Invite conversations with influencers
Make sure their ideals coincide with the organization's principles before initiating talks with influencers. They must be genuine and honest in their assessments of your organization.
Trust is necessary to volunteer or donate to non-profit organizations. They will trust you more if they hear positive things about your NGO from a well-liked influencer. One of the most effective strategies for increasing your trust is influencer marketing. "Mega-influencer" and "vlogger" Fleur De Force organized a charity concert for "Duty to Care" (DoC) in 2020 and promoted it to her more than 1.35 million subscribers on YouTube as well as 750,000 subscribers on Instagram.
4.6 Add donation buttons to your pages
After Facebook announced that $2 billion had already been given to non-profit organizations through their free Facebook Tools giving, you probably wondered how you could earn a portion of those donations for your charity.
For nonprofits and individual Facebook users who want to support their favorite causes, Facebook offers several donation tools. For nonprofits, Facebook provides the following:
Page fundraisers
Fundraiser sticker
Even if Instagram's giving capabilities are not as extensive, there are still ways for individuals and non-profit organizations to generate funds on the platform:
Donate sticker for Instagram Stories
Donate button on Instagram Profile
More donations will be received because of effective fundraising tactics, and the greater the number of funding received, the greater the likelihood that the organization will have an impact on the community.
Using Facebook Fundraisers, the ALS Association has raised more than $5 million to support its research and innovative treatments for people with ALS.
4.7 Develop social media policies for everyone
Your social media policy will depend on the social media plan you have developed. Whereas the social media policies of each organization will vary, there are some things to keep in mind while drafting content. Some of the items you may want to add are as follows:
The social media values and ethics you are going to follow
What is going to be your response to positive, negative, or neutral comments?
Your policies on copyright, privacy, and permissions
How will you distinguish between professional and personal opinions?
Non-profit organizations are frequently managed by small teams with the assistance of a group of volunteers with a variety of backgrounds, availability, and skill sets.
Social media policy gives nonprofits the opportunity to balance structure with flexibility.
In accordance with the "International Federation of Red Cross and Red Crescent Societies" (IFRC) social media policy, staff must contact the compliance department before utilizing social media on their own or on behalf of the organization.
4.8 Use Hashtags for campaigns
Start with your time-sensitive initiatives if you want to use hashtags using the sign of (#) in your social media marketing. When promoting relevant campaigns on social media, many non-profit organizations use hashtags like # Educationforall and # Savetheclimate to raise awareness and inspire urgency.
On social media, a popular hashtag can raise awareness and encourage donations, often shattering yearly fundraising statistics in a single day.
The WWF has been using the hashtag #EarthHour for over ten years, and it has resulted in millions of dollars in donations and inspired its supporters to take climate change action.
4.9 Host virtual events
Almost all platforms, including YouTube, LinkedIn, and Twitter, support live events. Such events, which feature live chat and donations and can be broadcast on several platforms, are very beneficial to non-profits.
Virtual events help in fundraising. They're also a fantastic way to spread the word about your company, develop a sense of community, and increase awareness.
A Media advocacy group for LGBTQ+ people, GLAAD hosts a hangout for its followers on Instagram Live.
4.10 Recruit volunteers for promotions
Utilize social media for nonprofits to get in touch with people and ask them to volunteer. Information about your volunteer opportunities should be shared. On Facebook and Twitter, you can share the link and include a description.
Volunteers increase donations and save money. They can become ambassadors for your cause, and they can have a greater influence on charitable organizations.
On Twitter, the Red Cross regularly informs followers about Hurricane Sandy relief efforts, including volunteer opportunities. They stated on Twitter that 5,700 of their employees who are assisting with Sandy assistance are volunteers.
5. Example of how to use social media for nonprofits
The World Wildlife Fund (WWF) used Snapchat with their "Last Selfie campaign" to raise awareness of the circumstances of endangered species, the organization broadcasted images of endangered species with the hashtag "#LastSelfie" and a phone number that people could text to contribute to the cause.
For Snapchat, it was the ideal medium because the photographs self-destructed after 10 seconds, symbolizing the extinction of the creatures from the planet. To increase the campaign's chances of becoming viral, WWF encouraged Twitter influencers to share the Snaps. The 40,000 # LastSelfie tweets published in a single week were seen by 120 million Twitter users. In just three days, WWF surpassed its monthly fundraising target.
6. FAQ'S
How do nonprofits use social media?
Social media for nonprofits is primarily used for volunteer recruitment, awareness campaigns, advocacy, and fundraising.
About Us
Growth Ganik is a rapidly evolving digital marketing agency in Sydney, Australia that specializes in SEO, content marketing, marketing strategy and lead generation.
We work with clients from leading brands and industries such as B2B SaaS, nonprofits and more to develop profitable digital marketing solutions that are data-driven to support all kinds of business goals from widening user bases, gaining more traction for online engagement, to increasing conversion and helping businesses scale up.
For creative tailor-made digital solutions and sustainable growth insights, get in touch with us!