Cancer Council Australia (CCA or Cancer Council, for short) is Australia's largest cancer charity, serving more than two million Aussies annually. The council is consistently ranked as Australia's top charity—coming in third in Australia's charity ranking lists —and is the single largest non-government fundraiser for cancer research across the continent.
While we can talk about its excellent work for days on end, we want to focus on how CCA's online marketing presence has been a massive factor in its growth and presence, being a leading Aussie charity.
CCA is the perfect example of how nonprofits can harness growth via an intentional and well-executed online marketing strategy, and we're here to break it down for you.
Whether you work at a nonprofit, charity, or focus on growth in other capacities, this case study provides rich takeaways for you to build an effective digital strategy yourself.
Cancer

Council Australia

Cancer Council Australia (CCA) is a nonprofit organisation that fights against cancer in Australia. The organisation works to prevent cancer, detect it early, spread its awareness, and support cancer patients. Moreover, it funds cancer research and pushes for effective policies related to the disease. Ultimately, CCA's goal is to reduce the impact of cancer on people's lives and create a healthier future for all Australians.

CCA is divided into eight chapters based on Australia's states and territories (e.g., Cancer Council NSW, Cancer Council Victoria, etc.). But for this case study, we'll focus primarily on the national site of CCA.

Website:

Cancer Council Australia's national website is immense, with more than 40 landing pages (not including its resource and blog pages) for its services, events, and donations. Upon browsing all those pages, we noticed that the website has two primary goals that it wants to achieve, namely:

Primary:

To navigate its audience to the relevant information, support, and services they seek

Secondary:

To encourage website visitors and drive donations to its organisation

Through the lens of both these angles, we'll do a deep dive into CCA's website structure and analyse its home page. Keep its two goals in mind to see how everything comes together.

1. Website Structure

CCA's website has a deep structure with hundreds of pages, which makes complete sense because it acts as a conduit for its audience to find everything they want. Everything is also well-organised, so visitors can easily navigate to any specific information.

Here's a breakdown of CCA's website structure: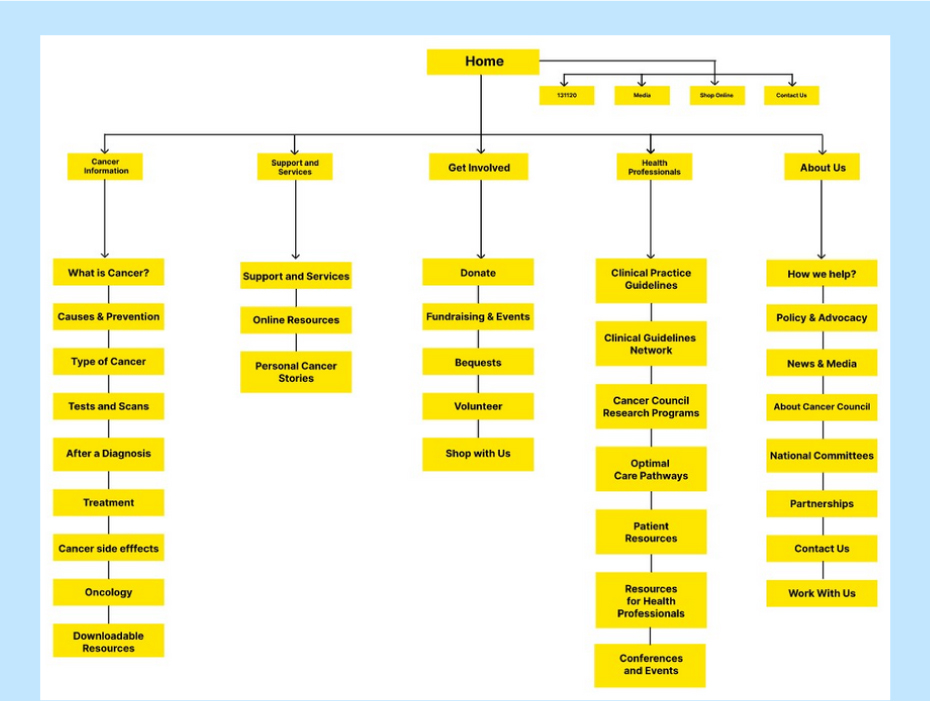 Immediately, we can observe the following points:
The CCA website prioritises its "Cancer Information" option as the first menu option, showing its commitment to being an informational repository first and everything else second.

"Support and Services" follows a structure similar to "Cancer Information", primarily aiming to inform and navigate rather than push for any form of conversion with the audience.

"Get Involved" is the third option and the primary conversion category with inner page navigation for donations, fundraising and volunteering. Note how this is the menu's third option rather than the CCA website's primary goal.
Across all three of these categories (plus "Health Professionals" and "About Us"), notice how the website structure presents all information in an easy-to-navigate and logical format, making it easy to review all its high-level categories and find particular articles or resources.
The perfect website is a key part of Cancer Council Australias marketing success.
Find out how our comprehensive approach to strategy building can get the same results for your social impact organisation.
2. Home Page
Despite being the anchor for dozens of landing pages, the home page is kept simple. Its messaging is clear and firmly sticks to its primary goal of providing cancer information.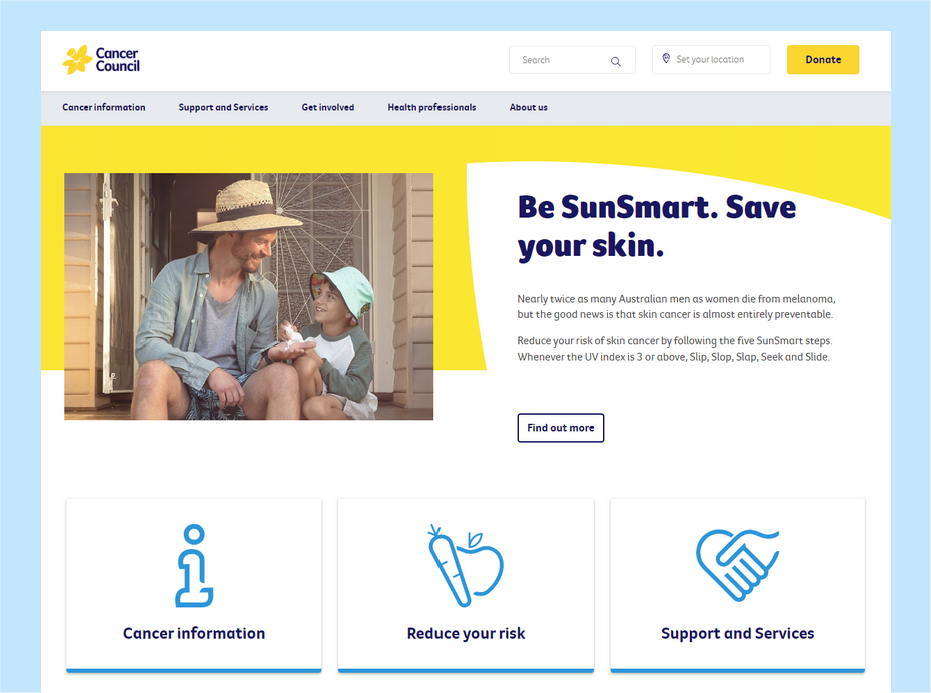 The banner is powerful yet simple, with a strong message and detailed imagery. Having a carousel (i.e., rotating banner) could have easily covered many updates happening within the organisation. Still, CCA smartly opted for a single image and message at a time.
The second fold of the site further cements its goal of providing information and support first, with clear call-to-actions (CTAs) for "Cancer Information", how to "Reduce Your Risk" of cancer, and "Support and Services" for other concerns. These are easily the top three categories viewers might want to explore.
Only once we reach the middle part of the home page do we see the second goal being addressed for "Volunteering, Fundraising and Donations". Even these are treated with low commitment CTAs of "Find Out More" instead of the direct "Donate Now" command.
3. Menu and Navigation
Lastly, we're giving a special mention to CCA's menu and navigation elements. Being such a massive site with so many pages to navigate to, CCA relies on its detailed menu dropdown to allow easy navigation, ensuring that nobody will get overwhelmed and lost in all the pages it has.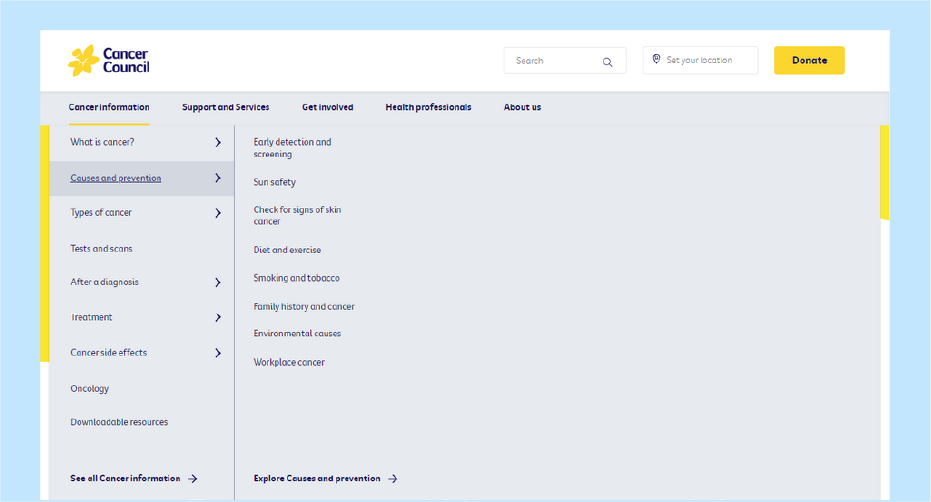 The menu dropdown is so detailed that a two-stage structure covers the entire main banner when you open it. Instead of showing off how much information it has, CCA obviously wants to ensure that nobody gets lost in the abyss—it wants you to find what you're looking for.
Moreover, CCA has a dedicated page for its menu options, allowing visitors to navigate between different pages like so: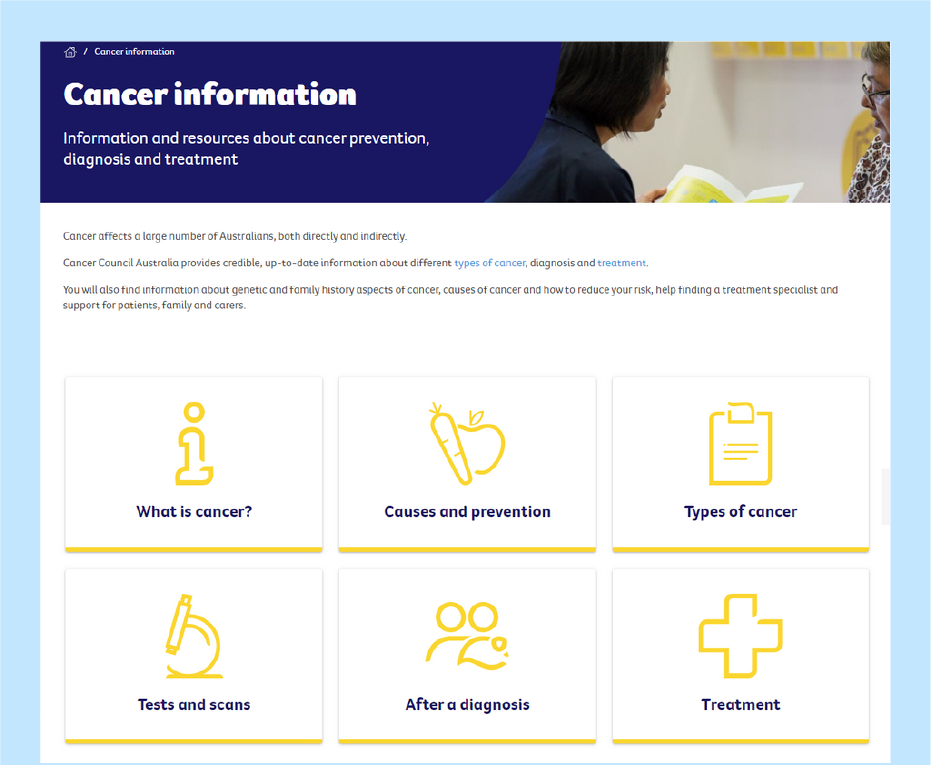 Key Takeaways
01
Relevant information First, Push for Conversion Second:
CCA focuses on navigating its users to information about cancer and support for cancer patients first. Donations and monetary conversions are given a second priority.
02
Straightforward Home Page:
One message in the banner and highlights easy navigation. The home page doesn't try to provide information about everything CCA does. Instead, it acts as a channel for people to explore the website.
03
Detailed Menu for Pointed Navigation:
CCA's website tries its best to avoid overwhelming visitors. Instead, it has an exhaustive menu dropdown for people to quickly find what they want and need, avoiding everything else they're not interested in.
The perfect website is a key part of CCA'S marketing success.
Organic Ads: Search and SEO for Cancer Council Australia
SEO (search engine optimisation) and content marketing are massive strategies for Cancer Council Australia. The organisation has set itself up as a primary resource for cancer-related information, and its traffic levels and performance strongly reflect that.
SEMRush estimates that the CCA website drives nearly 700k sessions to the website every month (696.6k, to be precise), and that doesn't even include the traffic for the individual state sites (e.g., Cancer Council NSW, Cancer Council Victoria, etc.), which drives a collective 300k traffic more.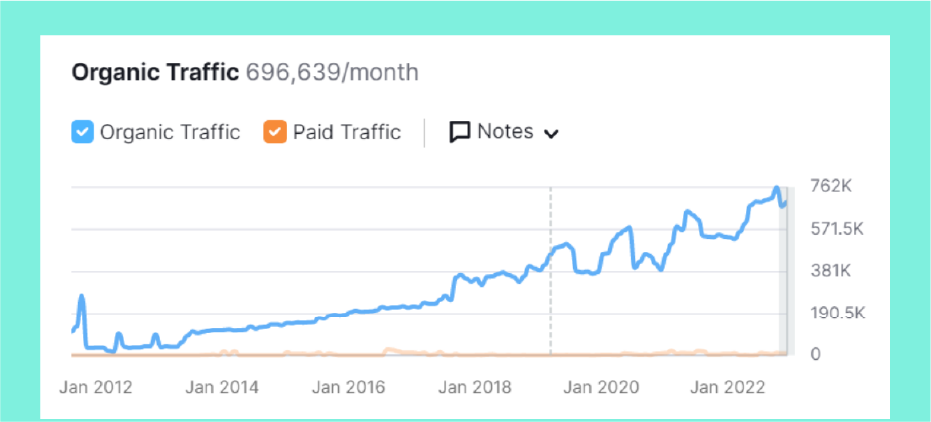 To remind you, this is all free, organic traffic primarily driven by a well-structured and straightforward content strategy. It's pretty impressive. How did CCA achieve this, you may ask? Simple: CCA is an educational powerhouse for cancer information in Australia.
For example, looking at the website's content, CCA consistently provides its vast library of easy-to-view, directly accessible blog articles covering all the relevant topics around cancer prevention, side effects, and possible treatments.
The blogs are well-organised, too, properly divided into five different types or sections:
CCA ensures that it publishes all relevant information and topics for every type or section to help inform the reader. As a result, visitors can find and educate themselves on exactly what they need to know about cancer in CCA's library of blog articles—either accessing them via search engines (i.e., Google) or within the website itself.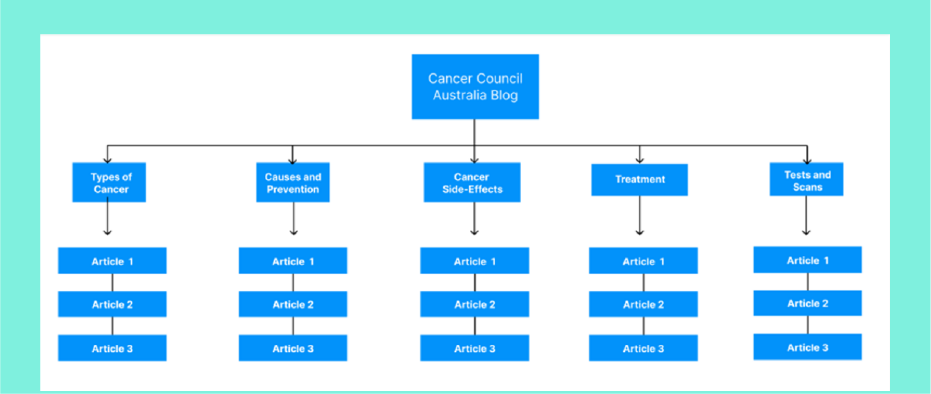 To drive home how much CCA has invested into a content-first strategy, nearly 92% of all its organic traffic is caused by educational and informational articles. And 83 of its top 100 pages fall under this category.
Investing so heavily in educational content has made CCA a go-to-authority in its space. As a result, the organisation has positioned itself as the number one organisation for supporting people with cancer and as the ultimate, trusted resource for cancer information. As you can imagine, this authority has a direct, positive impact on its reputation and overall brand.
CCA's content-first strategy has, without a doubt, helped its core focus of driving donations to its website and nurturing people into its e-commerce store—a valuable, effective strategy.
Key Takeaways
01
Organic SEO Leads to Brand Awareness:
With more than 1 million website visitors every month, CCA has elevated its brand recognition and established itself as the core authority for cancer information in Australia.
02
Content Marketing is Crucial and Needs to be Simple:
CCA focuses only on five categories for its content, but it goes incredibly detailed and deep within each of them. Doing so allows the organisation to be a recognised authority in each of those fields.
03
Educate—Don't Try to Sell Immediately:
None of CCA's blogs push for donations, sell its products, or even convince people to subscribe to its newsletter. Instead, CCA stays committed to being a trusted resource for cancer information—the conversions will come naturally.
We've helped numerous Australian not-for-profit and social impact organizations achieve remarkable results. Our esteemed clients, including HeartKids Australia, Hone AG, and Terramica, have experienced the transformative power of our strategies.
Discover how our proven growth plans can bring your audience to you effortlessly.
Want to explore how we can build a tailored growth strategy for your organisation? See what we can do.
Paid Ads: Instagram and Facebook Ads of Cancer Council Australia
While CCA's organic strategy drives a large volume of readers at the early stages of the decision funnel, the organisation also utilises paid marketing—primarily with Facebook and Instagram ads.
These paid ads engage users at various stages of the decision funnel and run across both its national account and state-level accounts. CCA actively runs these campaigns, which are a core part of its digital outreach strategy.
Let's look at some of the campaigns CCA has run and how effective they have been.
1. Donation and Decision Making Content
After analysing several different posts on the CCA ad library, one thing was clear: CCA primarily focuses on content for users at the consideration and conversion stage (i.e. content to drive lead generation, donations, sign-ups, etc.).
Here are a few examples:
Direct conversion posts to provide tax-free donations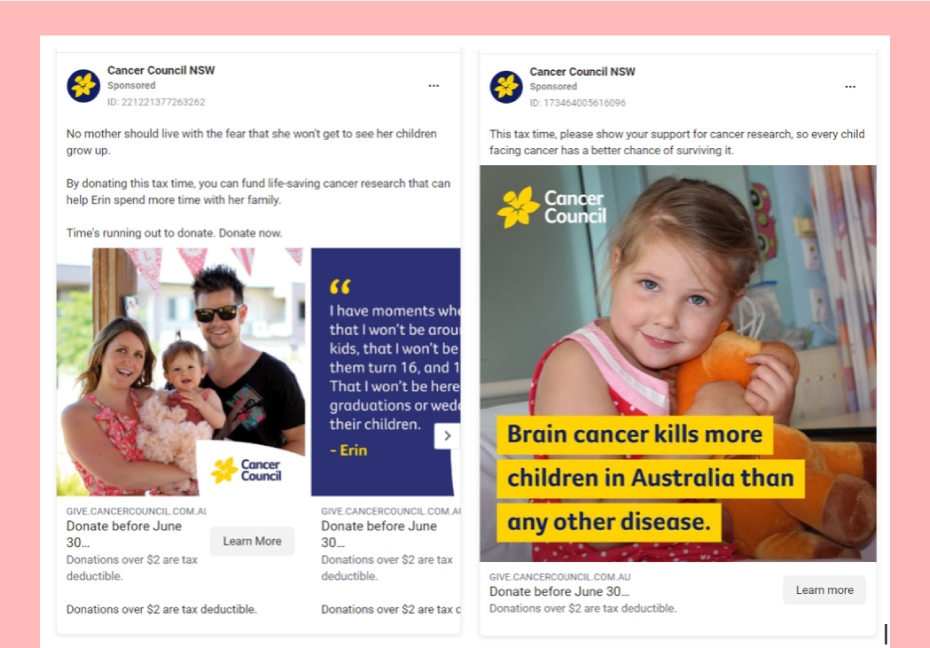 Consideration stage posts to sign-up for a screening test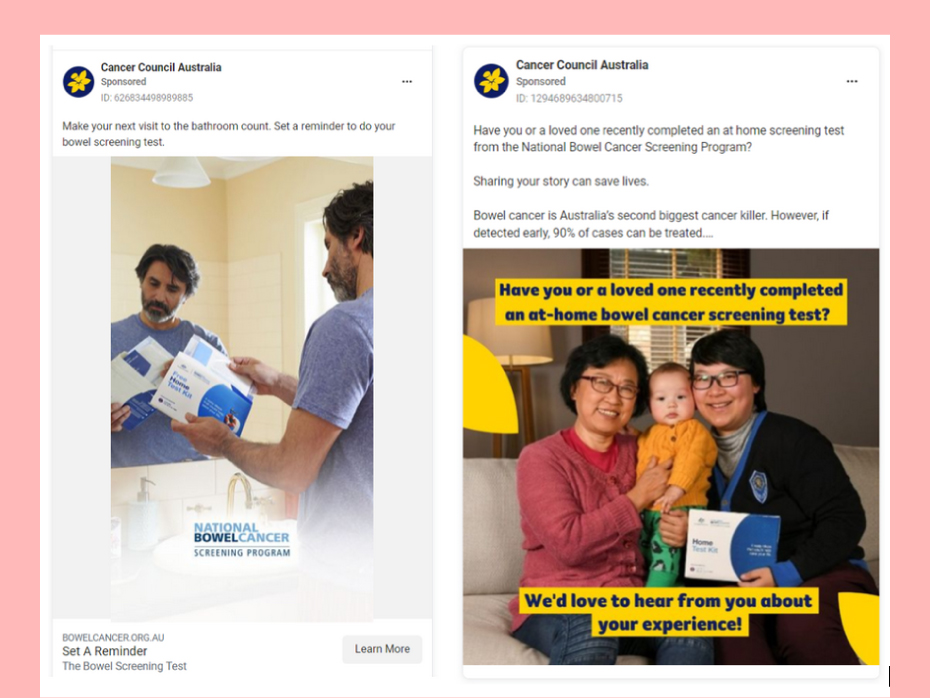 Now, take note that CCA has not focused on any form of educational content for its posting—it exclusively uses paid Instagram and Facebook posts to drive conversions for its website. It makes sense and works well in CCA's more comprehensive strategy, as its organic content strategy already provides all the relevant information needed to drive people at the early or awareness stage.
Here's how it works:
People with a search intent or need to research cancer—those in the early or awareness stage—are already actively looking for information on Google. The content they produce is therefore organically drawing people to their site.
On the other hand, those who are already aware of CCA, like past site visitors, can be targeted using paid marketing, like boosted Facebook posts. Maybe they weren't actively looking to donate or attend an event, but can be converted using the right offer at the right time.
2. A/B Testing and Testing Variables
Cancer Council also does an excellent job of testing all its content types across several variables, including captions, content, and CTA types, to see what works for the organisation.
Take, for example, its bowel screening campaign. Within this campaign, CCA published 43 different ads that focus on a combination of messaging and content type. Here are a few examples:
Ads focused on taking a "human" element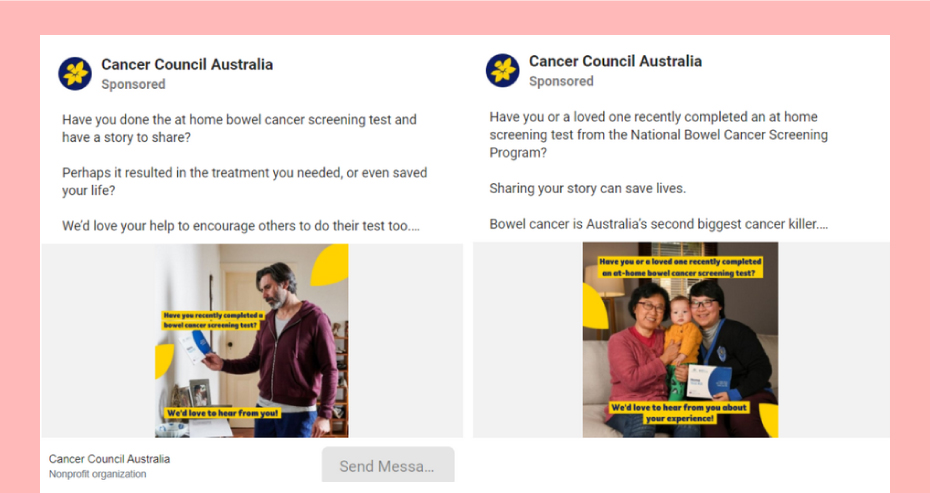 Direct-to-the-point messages targeting a specific age demographic
Across all 43 advertisement combinations, CCA actively tests for the best and highest converting ads for its campaigns—leaving nothing to chance. Still, note that a large budget is generally required to test to get any good results to make any inferences. Assumably, CCA has those funds.
Key Takeaways
01
Prioritisation on Digital Outreach:
CCA's paid campaigns run across national and state-level accounts, demonstrating the importance of digital outreach in its overall strategy.
02
Clarity in Paid Campaigns:
CCA uses paid marketing primarily on Facebook and Instagram to target users for lead generation, donations, and sign-ups, focusing on the consideration and conversion stages. Little to no campaigns are at the awareness stage.
Testing helps CCA identify the most effective and highest-converting campaign ads. However, it's important to note that a significant budget is generally required to obtain meaningful results and draw conclusions.
Want to see how Growth Ganik can help your social impact org grow faster, smarter, and with less effort?
Final Words: Cancer Council Australia's Digital Strategy
Cancer Council Australia's digital strategy is one of the most compelling examples for any organisation leveraging digital outreach—especially nonprofit groups.
CCA has mastered the art and science of targeting, testing, and optimising its campaigns with a strategy that incorporates:
Organic content marketing

Paid ads on social media platforms

A/B testing different variables (e.g., captions and CTA types)
By understanding how people make decisions throughout each stage in the decision funnel, CCA is driving more conversions with less effort. As a result, Cancer Council Australia continues to be successful at encouraging donations and sign-ups from its audience—a feat that many organisations can learn from.
Discover the transformative power of Growth Ganik, your trusted partner in driving social impact and amplifying the success of not-for-profit organizations.
With a proven track record of empowering entities like HeartKids Australia and Hone AG, we are dedicated to helping socially conscious brands achieve their growth aspirations.
If you're ready to take your digital marketing strategy to the next level, don't hesitate to reach out to our team today.
Together, we will unleash the full potential of your challenger brand, ensuring it leaves a lasting impression and makes a significant difference.
Contact us now and let's make your impact truly matter.
FAQ
How much should a nonprofit spend on marketing?
While each nonprofit's goals or objectives may vary, 10-20% of an operating budget is the average investment that should be set aside for a marketing initiative. If you need to consult a digital marketing agency for nonprofits, then this budget may vary depending on what you need their services for.
How do you create a marketing plan for a non profit organisation?
In order to create a nonprofit marketing plan, you need to follow a series of steps based on a planned strategy. Begin with identifying and creating a target audience, set goals or KPIs, decide on the right marketing tools and take measures at the right intervals to implement them. You can also enlist the services of a digital marketing agency for nonprofits to help you get started.
How to Do Internal Linking in Blogs?
Internal linking in blogs can be done by linking to relevant pages within your website, using descriptive and clear link text, and creating a logical linking structure.