According to a survey by Pew Research center, "56% of Internet users look online for information about a certain medical treatment or procedure".
This statistic indicates that the internet has become the go-to source for individuals seeking answers to their health-related queries.
As the demand for medical information surges in the digital space, the role of effective healthcare marketing has never been more crucial. Moreover, strategic marketing facilitates the distribution of accurate health information, contributing to increased public health awareness and education. This helps cultivate a sense of community, connecting individuals with relevant healthcare resources and services, ultimately promoting a healthier and more informed society.
In this article, we will explore 10 compelling healthcare marketing case studies and discover the impactful practices that are shaping the marketing landscape.

1. What Is Marketing in Healthcare?
Marketing in healthcare involves reaching and connecting with a relevant target audience using online and offline channels. It includes increasing brand reputation and generating qualified leads using strategies like SEO, social media marketing, content marketing, email marketing, TV advertisements, flyers/brochures, and newspaper ads. Healthcare marketing helps you increase patient connections and nurture those relationships to form loyal patients. 
2. What Is a Healthcare Marketing Case Study?
A healthcare marketing case study is a detailed examination of a particular case that serves as a framework for evaluating and analysing marketing issues/challenges in real life. It focuses on measurable outcomes like increasing website traffic, visitors, conversions, sales, and profits. Case studies for healthcare marketing are based on evidence. They often begin with a question or challenge that requires an answer through detailed research and analysis. 

3. How to Use Case Studies in Healthcare Marketing? 
Case studies serve as powerful tools for healthcare marketers, offering real-world examples and actionable insights. Here are some key ways how you can effectively use case studies in your healthcare marketing strategy:
You can have an exclusive page on your website to showcase your healthcare marketing case studies. Whether you call it "our work" or "case studies", – visitors should be able to find it easily. You can add the case study page on the sidebar, page header, or footer to ensure a rich user experience. Here are some case study pages for inspiration. Enabled, Siemens-Healthcare, and Avanade are examples of healthcare websites with an exclusive case study page.
Videos are persuasive and engaging formats to engage your users compared to text case studies. If you have the budget, you can create videos of your case studies to communicate your value proposition. Below are the healthcare marketing examples that used videos to improve primary care and accessibility – Healthcare Marketing – Video Case Study, Clinical Case Study – Telehealth for Primary Care, and Healthcare.  
Incorporate in Newsletters
To gain the attention of your prospects, you can incorporate healthcare marketing case studies in newsletters. Your target audience wants to look at how satisfied your customers are with the solution you have provided. By including case study examples in your newsletter – you can gain traction. Here is an example of a healthcare case study newsletter – Portentadesigns, Rasa, and Dealroom.
Using case studies in email marketing is one of the best tactics to convert prospects into potential clients, especially if you have an industry-segmented list. They are very effective when used in the lead nurturing workflows and re-engage the leads that have gone quite far in the funnel. For example, Smart Panda labs created a customised email marketing campaign using their case study that drove awareness for a new cancer treatment.
Collaborate with Industry Publications
Partner with healthcare industry publications or journals to feature your case studies in articles or advertorials. This provides you with a platform to reach a highly targeted audience of healthcare professionals who are actively seeking insights and solutions. For instance, American Journal of Clinical and Medical Case Reports, Medical Journal of Australia are some healthcare publications that cater specifically to publishing healthcare articles or case studies.
Webinars, Workshops, and Events
Host webinars or online workshops that dive deep into the details of your healthcare marketing case studies. These live events provide an interactive platform for you to present the challenges, solutions, and outcomes of your work. Invite industry experts or physicians to join as guest speakers to provide additional credibility and insights. Hospitals like, Massachusetts General Hospital and Royal Melbourne Hospital conduct regular webinars and events.
Invest in targeted social media advertising campaigns to promote your healthcare marketing case studies. Platforms like Facebook and LinkedIn offer advertising options that allow you to reach specific demographics, including healthcare professionals. You can also create visually appealing ad creatives that highlight the most compelling aspects of your case studies. Through interactive engagement content hospitals like UCSF Health and Sydney Children's Hospital promote their expertise within the industry.

4. 10 Healthcare Marketing Case Study Examples
Now let's dive into 10 inspiring healthcare marketing case study examples. These case studies highlight the power of effective healthcare marketing and the incredible results it can achieve.
1. Centura Health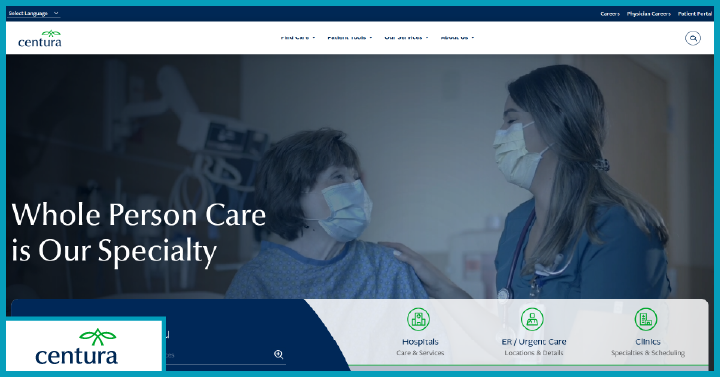 Centura Health is a healthcare system in Colorado that connects individuals across Colorado with 6000+ physicians. With seamless information architecture and easy navigation, Centura health's website stands out the best. It gives a convenient way to search by location, provider, and healthcare. Also, the easy navigation buttons and CTAs allow users to track and pay their bills in easy steps. The large and resizable font makes the website appealing and easy to read on devices of all sizes. 
2. Organ Donor Foundation
Organ Donor Foundation, one of the leading healthcare organisations in South Africa, came up with a marvellous idea to catch the attention of its target audience. As a part of this marketing campaign, they started delivering life-saving messaging in underground parking garages, which urges them to become organ donors. People listen to a static message created by the Organ Donor Foundation whenever they enter an underground parking garage. 
3. Banner Health
Banner Health is a nonprofit health system in the United States that operates 30 hospitals and dozens of health facilities in Arizona. The creative infographics used by Banner Health to promote awareness of health issues like – health myths, parenting, nutrition, and mental health have created a buzz in social media. These infographics are shareable on social media and resonate with audiences who may not be keen to read long-form content. 
4. Mayo Clinic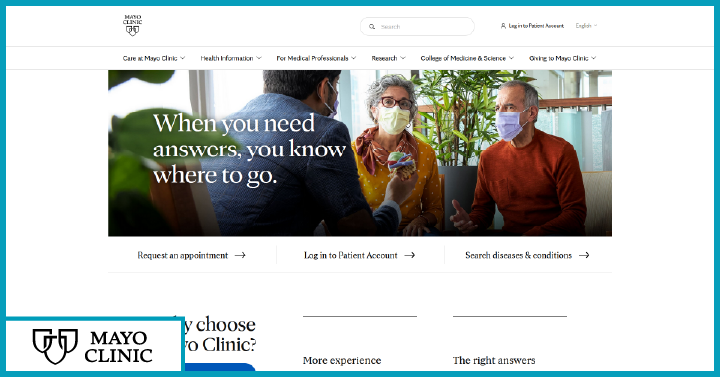 Mayo Clinic is a nonprofit American healthcare centre focused on integrated health, research, and education. The clinic serves communities by publishing informative content on health, diseases, treatments, and prevention. The Mayo Clinic blog features success stories of staff and patients, another excellent example of healthcare marketing case studies. This healthcare organisation helped seal its reputation as a trusted source of health information. 
5. NewYork Presbyterian Hospital  
NewYork-Presbyterian is a leading healthcare delivery system catered to provide the highest quality medical facilities. In digital marketing for healthcare, storytelling is one of the essential tactics that help promote valuable content for your audience. New York Presbyterian Hospital used this strategy to share the story of their patients. As a part of their marketing strategy, they created videos that showcased the life experiences of patients, doctors, and their staff. 

6. Arkansas Children's Hospital 
Arkansas Children's Hospital is a paediatric hospital solely dedicated to treating more than 7,00,000 children in the state. According to the American Automobile Association (AAA), teen drivers have a higher rate of fatal accidents, especially between Memorial Day and Labour Day. Arkansas Children's Hospital created the #100deadliestdays campaign, which includes a downloadable parent-teen driving agreement, infographics, and fact sheets. Their marketing campaign promoted awareness of risks to teens using the #100deadliestdays social media campaign. 
7. Great Ormond Street Hospital
Great Ormond Street Hospital is one of the top children's hospitals in the world for treating heart and brain problems. The content repurposed for digital signage by Great Ormond Street Hospital is another example of healthcare marketing. From providing live news to travel information and setting up digital notice boards – they leveraged the power of content to offer personalised marketing experience to their target audience. Digital signage is a highly adaptable marketing strategy that helps healthcare organisations to allow patients to feel more connected with your hospital. 
8. Carilion Clinic
The Carilion Clinic in Virgin's Roanoke valley started a hashtag campaign #YesMamm to create awareness about breast cancer. As a part of the campaign, they created Q & As on Twitter, which drove significant traffic to their website. Thousands of women got inspired by this campaign and booked a screening appointment in some of their locations. This healthcare marketing case study is an excellent example of how one can use hashtags to drive success to any campaign. 
9. See Me Scotland
See Me is Scotland's national program developed to tackle mental stigma and discrimination. They launched a campaign named "The Power of Okay," which aimed to tackle stigma and discrimination against mental health. They created a series of videos conveying the importance of talking to each other, shown in cinema halls and theatres. Also, they provided their audience with educational resources to help them understand and combat mental stigma. 
10. Cleveland Clinic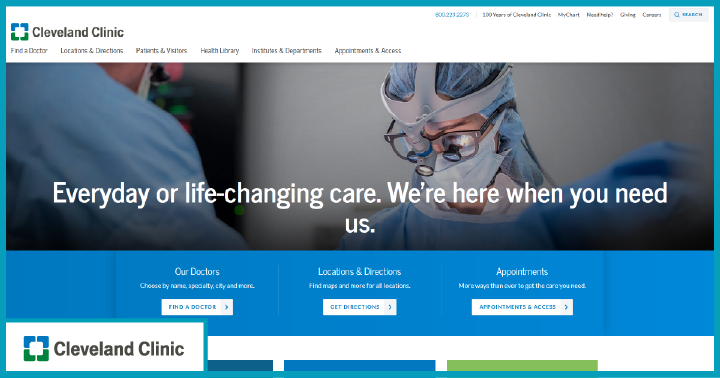 Cleveland Clinic is a nonprofit healthcare centre that integrates clinical research and hospital care. Their essential health blog provides helpful content to its audience. Besides having a solid content strategy, they have a thought leadership marketing strategy that uses a podcast with the same title. The podcast episodes feature researchers and doctors from the organisation, establishing them as experts in their fields.
Incorporating case studies into your healthcare marketing strategy can drive remarkable results. As we have seen in the above case-studies, a well-developed and executed strategy can help you attract qualified leads, educate patients on services and preventive care, establish your healthcare institution as a reliable and credible source, and foster engagement for patient loyalty.

Now, let's see how a digital marketing agency can help you enhance the success of healthcare initiatives and forge strong relationships with the patients.
5. How can a Digital Marketing Agency Help?
A digital marketing agency has the expertise, resources, and experience needed to create and execute effective marketing campaigns for healthcare businesses, all while ensuring compliance with industry regulations and best practices.
Growth Ganik is a full-stack digital marketing agency in Sydney, Australia. We have a team of experts who have the experience and resources to create and promote high-quality healthcare content. We skilfully manage complex technical aspects, such as gathering campaign insights and analytics.
We work with clients from leading brands and industries such as B2B SaaS, nonprofits, and more to develop profitable digital marketing solutions that are data-driven to support all kinds of business goals – from widening user bases and gaining more traction for online engagement to increasing conversion and helping businesses scale up.  For creative tailor-made digital solutions and sustainable growth insights, get in touch with us!
6. FAQs
What is healthcare marketing, and why is it important?
Healthcare marketing involves promoting healthcare services, facilities, or products. It's crucial for raising awareness, attracting patients, and staying competitive in the healthcare industry.
What are some of the digital marketing strategies healthcare providers use?
Digital marketing for healthcare can include strategies like SEO, social media, content marketing, and online advertising.
How can healthcare organisations maintain patient privacy in their marketing efforts?
It is important to be aware and adhere to your country's regulations regarding patient privacy. Some examples include, avoid sharing identifiable patient information without consent, use secure patient portals for online interactions, take consent for testimonials, use encrypted email services, etc.
What are the 5 Ps of healthcare marketing?
The 5 Ps of healthcare marketing are – patient, process, place, price, and product. 
How do you prepare for a marketing case study?
To prepare a marketing case study, you must choose a success story closely related to your patients, identify the key points, highlight the results, explore different designs, and publish the content.  
What are case studies used for in healthcare marketing?
Healthcare marketing case studies are used as social proof or testimonials to persuade that the process or strategy can help solve a problem. 
What are the 5 essential elements of a great case study?
The critical elements of the case study are – problem/challenge/issue, solution, testimonials stats and CTAs.