Are you at a point where you feel you've tried everything to generate more leads and sales but still are; not seeing the desired results? You don't have to worry, as there are many marketing tools for construction to utilise to boost your sales and conversions. Whether your goal is to drive more traffic to your website, increase sales, or boost custom retention – you should leverage these tools.
When combined with the right marketing tools, a solid marketing strategy can help drive more leads and sales for your construction company. In this article, we've listed the best marketing tools for construction that help you streamline your marketing activities and grow your business.
1. What Are Marketing Tools for Construction?
Marketing tools for construction are the tools used by marketing professionals in the construction industry to help sell your products or services. They refer to the marketing strategies, techniques, and materials to promote the services or products of a construction company. Most construction companies use some kind of advertising, market research, data, and digital channels to achieve their primary goals. Construction marketing tools in general can be categorized into SEO, social media, email, and video – each with a unique purpose.
1.1 Benefits of Marketing Tools for Construction
Marketing tools for construction can be used to understand your audience's interests and preferences. Using these tools, companies can gather information about their prospects to estimate their likelihood of taking the desired action. Google Analytics, Facebook Insights, Audiense, and SurveyMonkey are popular tools for reading your audience's minds. Using these tools, you can identify your target audience and organize and segment them.
Understand your competitor's strategy
For your construction business to be successful, you must first know what your competitors are doing. You'll get some idea of what is working in the market and what isn't. Marketing tools like SEMrush, Ahrefs, Moz, and BuzzSumo can help discover the most linked content on your competitor's website, identify the trending and competitive keywords, analyze the keyword positioning, and track brand mentions.
Boosts customer engagement
Customer engagement is the process of interacting with customers through various channels. It is how companies can create meaningful and long-lasting relationships with their customers. Marketing analytic tools can boost customer engagement and conversion with personalized and well-targeted marketing campaigns. Hootsuite, Buffer, HubSpot, and Zoho are marketing tools that help you deliver a better experience across social media and websites.
2. 15 Best Marketing Tools for Construction to Boost Sales
2.1 ActiveCampaign
ActiveCampaign is a cloud-based marketing automation software with a wide range of features and functionalities, such as – email marketing, CRM, web analytics, and live chat messaging. It also specializes in transactional email, marketing automation, and sales automation. This marketing tool for construction is suitable for companies of all sizes and is used for simple and complex sales automation. You can save time by automating repetitive administrative and marketing tasks.
Key Features –
Social media monitoring to know what your audience thinks about your brand.
Automated post and email scheduling to optimize the frequency
SMS marketing and sales automation to increase productivity
Drag-and-drop email designer to eliminate manual coding
Free email templates that elevate the client experience
2.2 Hubspot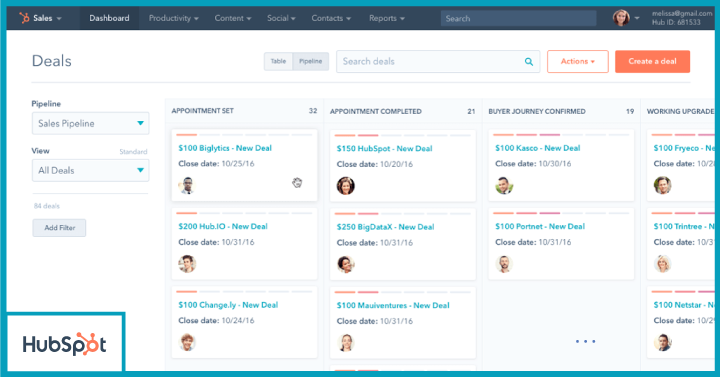 HubSpot is one of the best marketing tools for construction, with functionalities like – CRM, landing pages, list segmentation, email automation, workflows, ad tracking, and more. This tool allows businesses to manage customers seamlessly across multiple platforms. It has everything your marketing teams need to attract, engage, and nurture your target audience. Your team can run automated email campaigns and measure the ROI using the powerful reporting feature in HubSpot.
Key Features –
Behavioral targeting to improve engagement
Create workflows that eliminate redundant manual tasks
Create and personalize email campaigns to optimize the results
Prioritize interactions on social platforms to build trust
Measure the performance with Reporting dashboards
2.3 Moosend
Moosend is an email marketing automation tool for construction companies to deliver marketing and automation experiences that drive real growth. You can use it for every marketing activity, including – tracking users' behavior on the website, tracking the customer's journey, and monitoring sales and conversions. It includes a wide range of responsive templates allowing users to customize the elements without technical knowledge. The real-time campaign analytics give insights into the open rate, click-through rate and subscriber activity.
Key Features –
Drag-and-drop newsletter editor that drastically reduces the learning curve
Marketing automation to increase conversion rate
Lead scoring to measure the ROI of marketing efforts
Campaign performance to understand customer behavior
Third-party integration for quick deployment
2.4 Zendesk
Zendesk is a fantastic customer support software for B2B companies that allows them to provide a better customer experience. This cloud-based software is designed to improve customer satisfaction and boost communication via SMS, mobile app, phone, and website. It offers a full suite of products such as – live chat, help desk software, knowledge base management, and customer experience management to meet customer needs.
Key Features –
Organize and prioritise tickets for streamlined operations
Customer portal and phone support for enhanced customer service
Subscription-based notifications for timely updates
Messaging and live help chat to support customers
Reporting and analytics that measures and tracks the performance
2.5 AdStage
AdStage is an advanced PPC management and reporting tool that provides construction marketers with the data to analyze, monitor, report, and track paid ad campaigns. You can automatically monitor the paid marketing campaigns, analyze and share insights, and convert your ad data to optimize conversions. It is an advertising platform that provides an all-in-one solution for creating and managing omnichannel ad campaigns. Construction business owners can seamlessly advertise their products or services on Google Adwords, Bing, Facebook, LinkedIn and Twitter.
Key Features –
Cross-channel performance reporting to improve user experience
Automate campaigns and monitor results
Unified search and social media management
Multi-channel advertising to reach a wider audience
Reporting and analytics that helps to take effective measures
2.6 Pipedrive
Pipedrive is a cloud-based CRM tool for marketing and sales teams of all sizes. It allows your teams to see the entire sales process at a glance and update the latest deals with simple drag-and-drop. You can create customized pipelines and add custom stages or fields to share updates on the sales operations. One can also use it for revenue forecasting and set automated calculations when deals are opened or closed.
Key Features –
Opportunity and pipeline management to secure and manage leads
Contact and account management for ease in operations
Email marketing automation to nurture leads
Ad campaign management to run and optimize all paid marketing initiatives
Workflow automation to increase productivity
2.7 Zoho
Zoho is an all-in-one marketing automation software that helps companies manage their marketing activities across multiple channels. It gives a comprehensive set of products to build your online presence, send prospects the right message, and nurture the leads by engaging with customers at every stage of their journey. You can also segment your audience and create individual paths based on their interest.
Key Features –
Create personalized customer journeys that generate the right amount of interest
Lead generation and lead nurturing for conversions
Website behavioral marketing for better efficiency
Campaign planner to reach inbound marketing goals
SMS and email marketing to attract new leads
2.8 Adroll
Adroll is a growth marketing tool for construction companies to launch PPC ads quickly – google ads, social media ads, emails, and display ads to attract new customers and grow Revenue. This marketing tool takes your advertising campaign to the next level and attracts the right customers to your website. This tool is an extension of your advertising team, helping them generate maximum ROI from the advertising campaigns. One can closely monitor the ad performance and make instant changes to boost the ad performance.
Key Features –
Segmentation and personalized ads for better response rates
Retargeting and social targeting to boost brand recognition
Cross-device reach and predictive analysis
2.9 Wordstream
Wordstream is a cloud-based advertisement management solution that allows companies to manage all their paid marketing campaigns on diverse platforms. You can generate instant reports on WordStream and keep track of your ad performance, impression share, account activity, keyword report, and more. This tool simplifies the advertising process by allowing users to create and manage multiple campaigns from a single place.
Key Features –
Conversion and call tracking to optimize media spend
Geo-targeting and keyword list building
Dynamic keyword implementation to improve quality score
Landing page and performance reporting for consistent monitoring and evaluation
2.10 Buffer
Buffer is an intuitive social media management tool for construction companies, small businesses, and B2B firms. It can be used to build an audience organically and get the clicks your company deserves. It allows you to seamlessly share content on multiple platforms without switching the screen (from one place). You can even schedule posts and generate reports without the hassle of selecting a time and date.
Key Features –
Create a customized schedule for each platform to get the best results
Schedule your posts at the perfect time to gain more impressions and traffic
Plan your social media calendar for effective strategizing
Track your top-performing content to monitor performance, and trends
Boost engagement with cutting-edge visuals to attract and engage visitors
2.11 Hootsuite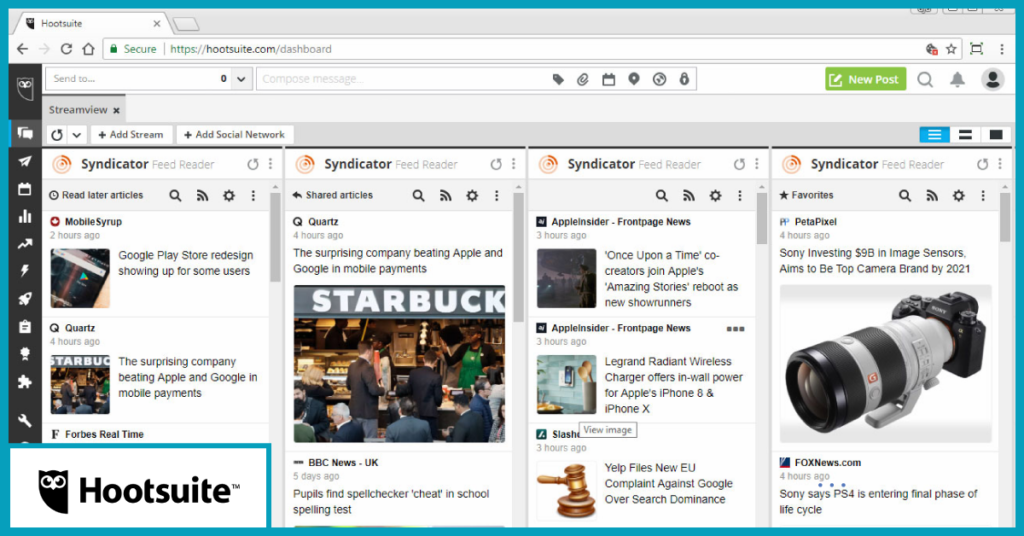 Hootsuite is an all-in-one social media management tool that allows companies to schedule posts and manage social media handles. It is highly beneficial for those who run multiple accounts and handle multiple profiles. This is one of the best marketing tools for construction companies to manage and analyse social media posts from 20+ channels. In addition, Hootsuite allows construction companies to share their work with a broader audience and build a brand reputation.
Key Features –
Schedule and publish content optimally to meet goals such as traffic or leads
View social media calendar to improve posting consistency for the best results
Monitor and stay on top of the trends to stay one step ahead
Get actionable insights on posts that can be used to optimize them and boost traffic
2.12 Moz
Moz is another marketing tool for construction that helps businesses manage multiple aspects of their SEO campaign. It is an excellent tool for monitoring the performance of your SEO efforts. It allows companies to categorize, compare, and prioritize keywords and fine-tune their marketing efforts. It also enables construction businesses to outrank the competition by suggesting relevant keywords, fixing technical SEO issues, and tracking competitors' movement on SERPs.
Key Features –
Rank tracking to monitor performance and take optimizing measures if needed
Backlink analysis to evaluate the quality of links
Keyword research to identify the trending search phrases
Content optimization to grow your audience
Crawl and audit your site for site accuracy
2.13 Buzzsumo
Buzzsumo is an excellent tool for understanding the key trends in social media sites and sharing your content across multiple platforms. It provides content research and performance insights from across the world. It is one of the incredible marketing tools for construction companies to monitor their brand's growth. With Buzzsumo, you can discover trending posts, viral content, potential outreach opportunities, news articles, and video content based on social engagement, search queries, evergreen scores, and backlinks.
Key Features –
Identify keyword influencers for maximum impact
Keep track of competitors to improve your strategy
Identify the best platform to share content
Discover what is trending in the industry
2.14 Vimeo
Vimeo is a video marketing tool for construction companies that allows you to create promotional videos in a matter of minutes. In addition, this video editor makes it easier to create professional videos using pre-built templates. If you want to accelerate your construction business, Vimeo is a powerful tool that turns your viewers into customers. With advanced video editing, hosting, and management solutions, you can turn any video into informative and engaging content.
Key Features –
Crate immersive videos in minutes to attract and engage potential leads
Upload from anywhere for enhanced convenience
Unmatched video quality to draw large amounts of viewers and gain more traffic
Tons of backup storage to record and store videos for easy reference
2.15 Mailchimp
Mailchimp is an email marketing and automation tool for B2B and B2C companies to create successful email marketing campaigns. This all-in-one platform creates, schedules and monitors email campaigns. You can create, send, and analyse email ad campaigns to attract new leads and nurture existing leads. Based on your campaign's performance, you can understand your customers better and grow your business.
Key Features –
Email tracking to send impactful follow-ups
Campaign transparency at all levels for easy monitoring
View success and click-through rates easily for improved strategising
Generate Custom reports for performance evaluation
Manage subscribers and un-subscribers in a simplified manner
3. FAQS
What Are the 5 Marketing Tools?
The most common marketing tools are – content marketing, email marketing, display advertising, social media advertising, and research.
What Tools Are Used for Marketing?
Different types of tools are used for marketing, such as – video marketing, event marketing, social media marketing, search engine optimisation, online advertising, and customer relationship management.
How Do You Market a Construction Product?
Some practical ways to market a construction product are – the local community, direct mail campaigns, outdoor advertising, sponsorships, event advertisements, printed brochures, and flyers.
How to Market a Construction Company Online?
You can use various digital marketing strategies such as – SEO, brand building, social media marketing, LinkedIn advertising, Facebook advertising, SEO, backlink building etc., to market a construction company online.
Resources You Will Love –
4. About Growth Ganik
Growth Ganik is a rapidly evolving digital marketing agency in Sydney, Australia, specialising in SEO, content marketing, marketing strategy, and lead generation.
We work with clients from leading brands and industries such as B2B SaaS, nonprofits, and more to develop profitable digital marketing solutions that are data-driven to support all kinds of business goals – from widening user bases and gaining more traction for online engagement to increasing conversion and helping businesses scale up.
For creative tailor-made digital solutions and sustainable growth insights, get in touch with us!