Do you want to drive potential donors to your website? Are you finding it hard to reach your target audience? Do you want to improve your brand visibility? You can accomplish all these goals by investing in SEO for nonprofits. A website with a strong SEO strategy can gain more attention from supporters and donors. 
The goal is to expand your reach, elevate your impact, and support your fundraising efforts. Doing so will help your content appear organically at the top of SERPs for users who search for fundraising campaigns, events, or volunteering opportunities. This comprehensive guide covers everything you need to know about SEO for nonprofits. 
To read about our comprehensive article on digital marketing for nonprofits, click here.
1. What Is SEO for Nonprofits?
SEO for nonprofits is the process of optimizing the website to improve online visibility and raise awareness of your organization's mission, stories, and activities. People who care about social causes or issues are likely to use search engines to find relevant information. So, if your website is optimized, you can increase the chances of online donations, volunteering signups, and raising awareness about your work. 
Research shows that more than 90% of searchers do not click beyond the first page. If your website is not listed on the first few pages, your content will not likely be found or seen. Improving your nonprofit SEO helps bring the right audiences to your content and increases their chances of contributing to your goals.   
2. How Does SEO for Nonprofits Work?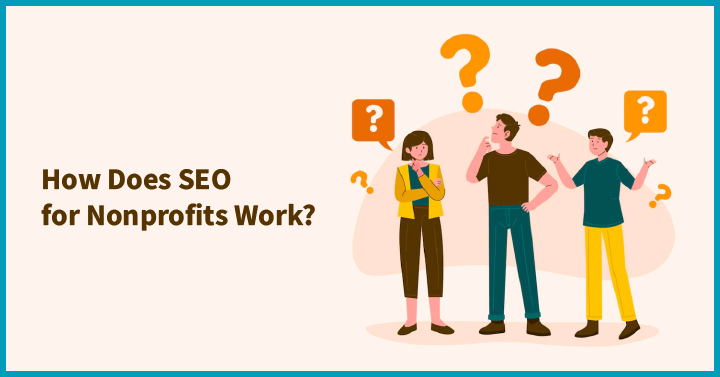 For nonprofits, SEO is about communicating your authority and value to search engines. For that, you need to make it as easy as possible for search engine algorithms to understand what your website is about. Relevance, meaning, quality, and context are key factors that help search engines determine which results should be returned for a searcher's query. 
The major functions of search engines are indexing and crawling to provide users with the list of websites they have shortlisted by considering the critical factors. When a searcher performs a query, it scours billions of relevant web pages, documents, and JPGs. Then, it ranks those results based on relevance, domain authority, and context.
Google uses more than 200 factors to rank your website. When you understand how SEO for nonprofits works, you use tactics such as content creation, keyword research, page speed optimization, etc., to increase your visibility in search results. 
For example, when the searcher enters "nonprofit organizations in Australia" in Google, it crawls billions of pages optimized for the particular keyword. If the content on your website is optimized for the keyword "nonprofit organizations in Australia," with good page speed, high-quality backlinks, and domain authority – Google is likely to position your website on top of search results. 
3. Why Is SEO Important for Nonprofit Organizations?
SEO is important for nonprofits as it helps raise awareness of your organization's mission. According to sources, 90% of searchers do not click beyond the first page.
Improving your SEO helps improve your position in SERPs and brings the right audience to your content. Let's elaborate further on why SEO is essential for nonprofit organizations – 
SEO helps increase awareness of your organization's work, mission, and objectives. Having your website listed on the first page of SERPs will increase its visibility and help drive high-quality traffic. In addition, you can boost conversions with compelling content and CTAs, i.e., more signups, volunteer registrations, and donations.  
When it comes to nonprofit organizations, supporters and volunteers are the backbones, as they help in fundraising and outreach. Optimizing your landing pages with signup/registration forms for donations and volunteer opportunities will help you grow your network of supporters.
SEO can help you reach local donors, supporters, and volunteers by including geographic keywords. For example, if your nonprofit organization is located in Sydney, and when someone types "Nonprofit organization in Sydney," – your website is likely to populate on top of search results. With a google business profile, Google maps, and Yelp – you can boost your local SEO efforts. 
SEO is one of the cost-effective ways to generate website traffic. It is much more affordable than paid advertising, as the CPC varies from time to time. Although SEO results are not instant, you can see a drastic traffic change over time. 
For these reasons, SEO for nonprofits is much more critical than other marketing tactics. 
4. Do Nonprofits Need SEO? 
Yes. Nonprofit organizations need SEO just like any other organization. SEO for nonprofits is optimizing the website to drive relevant traffic, increase brand awareness, and boost conversions. A website with a strong SEO can gain more attention from a potential audience. More visitors to your website mean more opportunities to generate online funds. For instance, if someone searches "nonprofit organization near me," they are interested in collaborating with local organizations like you. 
5. Is Google Domain Free for Nonprofits? 
Google domain is not free for nonprofits. However, Google for nonprofits is a program that gives access to their products for free. It's great for organizations that wish to increase their brand awareness and reach their target audience. For instance, if you want to use Workspace for your nonprofit or Ad grants, Google offers discounts for nonprofits.
Nonprofit organizations that qualify for Google grants get access to a collection of premium apps. Some of the popular programs are – 
This is one of the popular programs for nonprofits, where Google gives an ad grant of $10,000 to spend on advertisements. You can use it to promote your next event, run a fundraising campaign, attract potential donors, and even spread the word about your mission. 
Every nonprofit uses email, chat messaging, calendars, documents, video messaging, and spreadsheets for the smooth functioning of their organization. If you are eligible for Google for nonprofits, you will get unlimited Gmail accounts with your domain, 30GB cloud storage per user, 100 participant video meetings, 24/7 chat support, and more.   
This program elevates the value of your YouTube channel and amplifies your message. In addition, it allows you to develop meaningful partnerships with YouTube content creators. You can make your YouTube videos interactive with annotations, access the creator academy, insert "link anywhere cards," and do much more. 
With this program, you can publish premium Google Maps on your website. Also, you can access Google Maps API and Open Data Kit to plot-sensitive information and link the map features in your nonprofit apps. For example, Charity: Water is a nonprofit organization that leveraged Google Maps API to send its donors' GPS coordinates (of a new well). 
6. SEO for Nonprofits: Strategies to Drive Organic Traffic and Increase Donor Engagement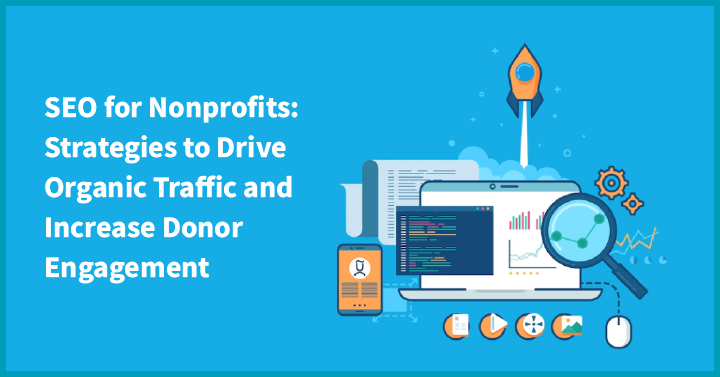 Google is the best driver of organic traffic. Most of your target audience use Google as their primary search engine. You can drive potential donors and increase their engagement by publishing content on your website and optimizing its architecture.  SEO strategies for nonprofits can be categorized into on-page, off-page, and technical SEO. Let's delve deep into these strategies. 
6.1 What Is On-Page SEO for Nonprofits?
On-page SEO for nonprofits is a set of techniques that help improve the quality of your website. It includes multiple factors like – URL, keywords, tags, images, videos, and more. Your website being a point of contact between you and donors, it makes sense to start optimizing your website. 
6.1.1 Keyword Optimization
Keywords are the terms or phrases within the context similar to your donor's search queries. Search engines use these keywords to provide searchers with a list of accurate and relevant responses. 
Before displaying the list, search engines crawl millions of web pages and filter those with the keywords in the search query context. Therefore, if your webpage uses the keywords related to your donor's scratch queries, it is more likely to be shortlisted by Google. 
For example, suppose your nonprofit is committed to improving social welfare. In that case, you could use keywords like – social welfare policy, social welfare administration, social welfare benefits, government social programs, and so on. These are some common phrases the searchers may search for using Google. 
You can use tools like SEMRush, Ahrefs, and Moz to create keyword clusters that have high search volumes and low/medium competition. 
6.1.2 Content Optimization
Once you have shortlisted the keywords, the next step is optimizing your website's content for relevant keywords or phrases. When it comes to SEO for nonprofits, what matters the most is – how and where you will use the keywords. 
As a part of on-page SEO, you can use keywords in the title, heading, meta tag, meta description, alt image, and URL. As a best practice, you should avoid keyword stuffing, which is often considered spam. 
Let's say "social welfare policy" is a targeted keyword. It is recommended to use the keywords sparingly. As a thumb rule, the keyword density should be around 2%-5%. Consider using online keyword research tools like – SEO Review Tools, SEO Book, or Sure Oak  to measure the percentage of keywords in your content. 
6.1.3 Mobile Responsiveness
After Google rolled out the mobile-first indexing algorithm in 2018, it has become critical for nonprofits to have mobile responsive websites. By optimizing your nonprofit website for small-screen devices, you'll be in line with Google's SEO recommendations. 
Here are a few tips to improve the mobile responsiveness of your nonprofit website –       
Use readable fonts to enhance your website's loading speed
The colors of your website should reflect your logo color
Use descriptive headings, URLs, and titles
Make the anchor text descriptive
Googlebot considers the information, user experience, and layout of the mobile version over the desktop version. The user experience improves as your website's efficiency and usability improved.
6.1.4 Image Optimization
A picture is worth a thousand words; if optimized properly, it could drive thousands of donors. To make your organization's visual content useful, you must ensure it is compelling and inspires action. Images on websites give important contextual information to search engines. 
Additionally, they speed up page loading, increasing search rankings and user engagement. Here are a few tips on image optimization – 
Compress the images to increase the leading speed
Pick the right image format from JPEG, PNG, and GIF
Optimize file names with descriptive keywords and tags
Make use of alt tags to help search engines index your image
Optimize image title by providing additional context
Include captions to enhance the user experience
Ensure the text on the page complements the images
If you struggle to rank high on SERPs, keep these tips in mind before uploading any image.
7. What is Off-Page SEO for Nonprofits?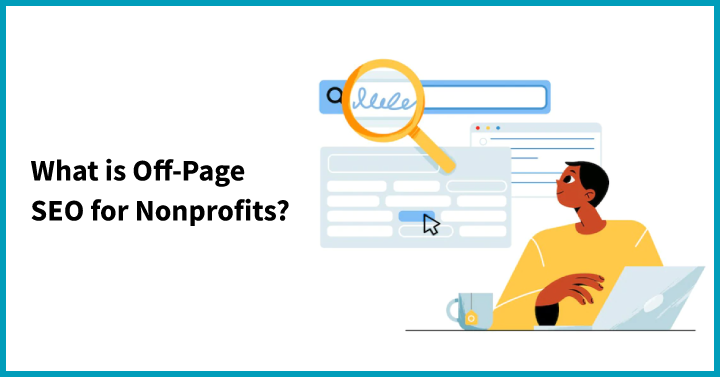 Off-page SEO for nonprofits is your efforts outside the website to earn quality search traffic. It doesn't require modifying the website's design, structure, or content. It involves "behind the scene" activities that boost the credibility of your website.  
Backlinks are the most critical element of off-page SEO. Also known as link building is the process of acquiring links from high domain authority websites. A hyperlink is a way for users to navigate from one source to another relevant source. Google bots use these links to determine the credibility and relevance of your website, based on which it positions your website on SERPs. 
Domain authority is an important KPI that predicts your website's relevance, credibility, and rank for specific factors. It ranges from 0 to 100, where 100 is higher. You can check your website's domain authority using tools like SmallSEOTools, UberSuggest, or Moz. Several link-building tactics for nonprofits help improve the domain authority, some of which are as below – 
If you work for a nonprofit, you might be aware of the online directories that provide information about nonprofits to those interested in volunteering, donating, and fundraising activities. Listing your nonprofit in online directories will give you quality backlinks. However, these directories require you to register with them for free (most of the directories). Some high-quality nonprofit directories on the web include – Idaho, Idealist, and GuideStar.  
Guest blogging is one of the ways to win high-quality backlinks. However, experts recommend using it to build brand authority and increase readership. For example, you can write guest posts for top publications and recognizable sites that the audience in your niche world knows. You should also have a nonprofit blog that encourages other websites to link. As long as your content is valuable to your audience, you will get quality links and traffic to your blog. 
Whether you want to promote your fundraising campaign or an annual event, a press release for nonprofits will help you spread the word. Using PR services like PRweb or eReleases for paid distribution of newsworthy material is a cost-effective way to drive the right traffic to your website. Easter Sales and Ecumen are two nonprofits that have leveraged the power of PRWeb to promote their mission. 
Podcasts are free for nonprofits to begin discussing niche topics latest tips, tricks, and insights for nonprofit activities. It can be intimidating and, at the same time, rewarding to have a podcast for your nonprofit organization. Use a podcast to share your organization's stories, grow your network, reach a new audience, and bring a positive perspective to your organization.   
8. What is Technical SEO for Nonprofits? 
For nonprofits, technical SEO refers to factors beyond website optimization and link building. It includes several factors like – page speed optimization, site design/architecture, page redirects, indexing/crawling, and so on. An excellent technical SEO allows search engine spiders to crawl your website and index it on SERPs. Some of the most crucial areas of technical SEO include – 
Website speed – pages that open slow will rank low on SERPs, despite having good content. Use tools like GTMetrix and Pingdom to test your website's performance. 
Fix crawl errors – Check the robots.txt file to identify issues that stop search bots from accessing your website. Use google search console reports to identify and fix errors related to indexing and crawlability. 
Duplicate content – Duplicate content often dilutes search ranking, as the search engines might rank a wrong page or block other pages. Use free SEO tools to identify and fix duplicate content. 
While these are some important factors, there are plenty more technical factors to consider. The most important thing to remember is that SEO helps boost search engine visibility and attract quality traffic. 
9. Example of How to Use SEO for Nonprofits
Care is a nonprofit organization that works to alleviate poverty in developing nations. With a significant footprint in African countries, it works on numerous projects encompassing health, education, and area-specific emergencies. It is a unique nonprofit website based on the ASP-custom framework. With 34.2M backlinks, 58.1K keywords, and a Domain Authority of 71, the website gets organic search traffic of 151.3k per month. 
Feeding America is the country's leading hunger-relief organization that connects with people to end hunger. The website is well-structured and optimized for 156.7K keywords like – food banks near me, food bank, food pantry, and more. With 1.9M high-quality backlinks and an authority score of 73, the website drives organic search traffic of 507.2K per month. 
About Us
Growth Ganik is a rapidly evolving digital marketing agency in Sydney, Australia that specializes in SEO, content marketing, marketing strategy and lead generation.
We work with clients from leading brands and industries such as B2B SaaS, nonprofits and more to develop profitable digital marketing solutions that are data-driven to support all kinds of business goals from widening user bases, gaining more traction for online engagement, to increasing conversion and helping businesses scale up. 
For creative tailor-made digital solutions and sustainable growth insights, get in touch with us!
10. FAQs
How Can I Do SEO for NGOs? 
SEO for NGOs or nonprofits can be done in multiple ways. You can do it yourself or outsource to a reliable SEO agency for nonprofits. Before you try SEO for yourself, start with an audit of your website. Get a Free SEO Strategy Blueprint for your Company, and then focus your SEO efforts on the recommended actions.