Did you know – it takes 50 milliseconds for a website visitor to form an impression of your website? If your website is challenging to navigate or looks outdated, your visitors will leave your site or stay unengaged. What you can do instead is to use some of the best website builders for nonprofits to create visually appealing and fully functional websites that your donors have no issue navigating. 
In this post, we've curated a list of website builders for nonprofits that help you improve your visitor's experience and keep them engaged. Once you've decided on the best website builder, ensure you are partnered with a professional nonprofit marketing agency to maximize your website's potential and take your online presence to the next level.
You can also explore some of our best articles on digital marketing for nonprofits here –
1. How Do I Create a Website for Nonprofit Organisations?
You can create a fully-functional website for your nonprofit using website builders. There are a number of website builders for nonprofits that help you build your website in simple steps without any coding knowledge. Here are the critical steps to creating a nonprofit website –
Choose your domain name
Choose a web hosting plan
Install a website builder
Choose a template/theme
Build web pages by dragging and dropping elements
Create content for your core pages
Publish your website
2. Features to Look For in a Nonprofit Website Builder
Fundraising is one of the top priorities of nonprofit organizations, so choosing a website builder with an online donation feature is crucial. You might need a combination of platforms that support the donation interactions and allows you to customize it to showcase your brand identity.
Your nonprofit website needs traffic from multiple platforms and social media channels. You must make extra efforts to invite referral traffic and new visitors to your website. Choose a nonprofit website builder with strong integration and social sharing options. Your web pages should have social sharing options that allow your supporters, donors, and volunteers to share your work on their feeds.
Ease of use is one of the important considerations when choosing a nonprofit website builder. User-friendliness refers to how easily you can navigate across the backend functionalities and build an intuitive website. Also, you need to select a scalable website builder for your nonprofit that helps you connect and communicate with your audience seamlessly as your nonprofit grows over time.
Nonprofits often manage many events, which your website needs to keep up with. For instance, if you are hosting a fundraiser event, you need a website that lets you promote the event and send updates. Your website is the first place your audience goes to learn about your upcoming events, latest updates, and programs. So, choose a nonprofit website builder with registering, ticketing, RSVP collection, event pages, email reminders, and guest list management.
3. 15 Best Website Builders for Nonprofits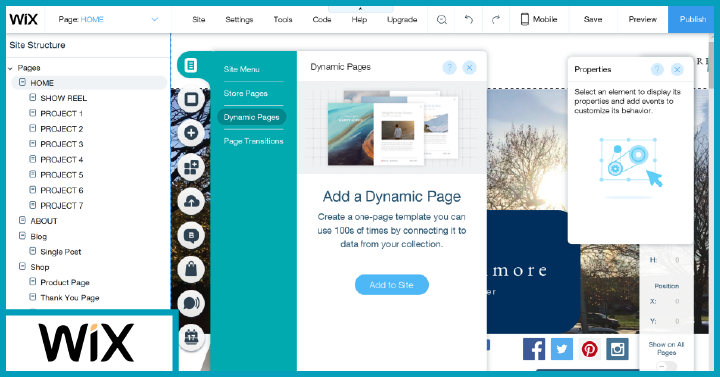 Wix is one of the ideal website builders for nonprofits, with 250+ add-on features, an intuitive interface, and customizable templates to build and grow your brand online. It allows you to create stunningly beautiful designs and get your site up and running quickly without much technical knowledge.
Key Features –
Pricing for Nonprofits –
Wix for nonprofits is available for free with a watermark on the website. The paid plans start at $14/month and go upto $439/month.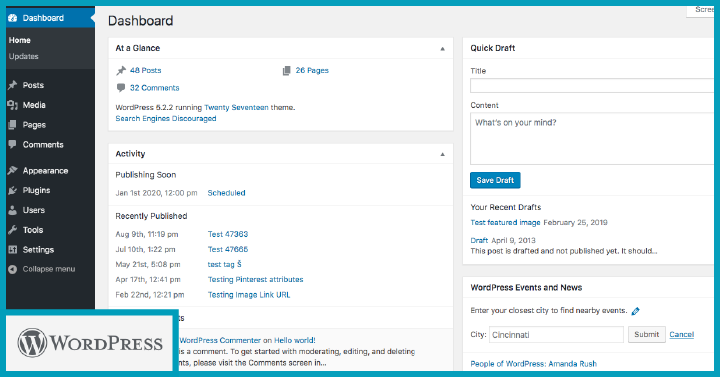 WordPress is one of the best website builders for nonprofits that help you build a fully-functional website in minutes. With highly customizable templates, themes, and plugins, you can create an informative website that accepts donations, allow visitors to signup, support a cause, and share updates on their social media handles.
Key Features –
Nonprofit themes – you can kickstart your website with hundreds of free themes and templates on WordPress. Each theme varies in style, design, and functionality, making your nonprofit website stand out from others. Some popular themes are – Loveus – Nonprofit charity, Grace- church, religion & charity, BigHearts – charity & donation.
Signup forms – You can build your mailing list instantly with signup forms that help capture user information. WordPress has various signup plugins that allow you to add different types of signup forms.
Blocks – You can add calendars, event updates, milestones, upcoming events, and more to any page or post. This feature helps you highlight your nonprofit's accomplishments and boosts your credibility.
Pricing for Nonprofits –
WordPress offers a free plan. The paid plans start at $49/month when billed yearly and go up to $300/month.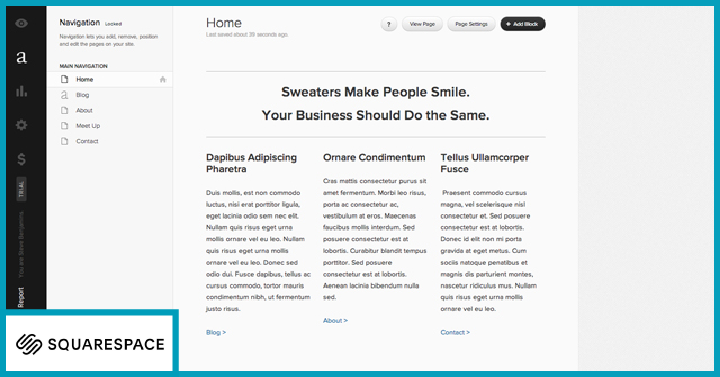 Squarespace is another fantastic website builder for nonprofits with hundreds of attractive templates, themes, and imagery. It offers a wide range of features for nonprofits to nurture their supporters. With this premium website builder, you can create a simple but functional website in no time. It is known for ease of use and offers site designs specific to different niches, including nonprofits. Check out some best examples of nonprofit Squarespace website designs and inspirations here.
Key Features –
Donation block – use donation blocks to connect donations from visitors who support your organization or cause. They appear as donation buttons, which can be customized in terms of design, text, and amount. Visitors can use Stripe, Apple Pay, or PayPal to make donations.
Event calendar – The events calendar widget helps you display upcoming activities and events and boost engagement rates on your website. You can design your event calendar with featured images, excerpts, descriptions, and more.
Templates – There is a specific section of templates for nonprofits. You can start designing your nonprofit website by choosing a suitable template and completing it with customizable designs and built-in tools. Some best nonprofit templates are – Bailard Fluid, Lusaka Fluid, and Comet Fluid.
Pricing for Nonprofits –
Squarespace does not offer a free plan. The paid plans start at $14/month and go up to $49/mo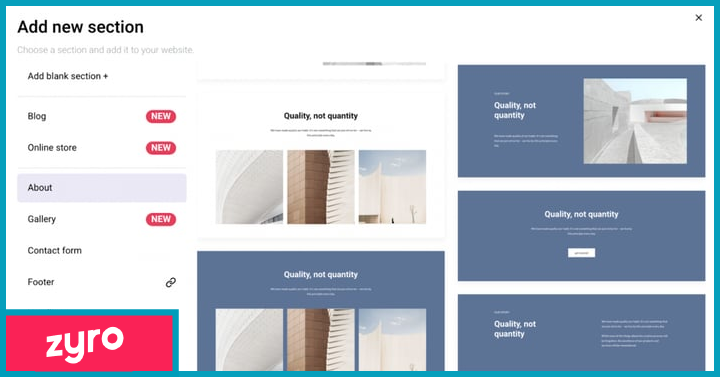 Zyro is among the list of best website builders that has over 130 responsive templates and helps you create a website to accomplish your mission (crowdfunding, supporting a cause, and campaigns). When it comes to speed and affordability, it enables you to create a website for a nonprofit organization quickly and easily. You can add a blog to your nonprofit website and boost your inbound marketing efforts. You can add pages and elements and change styles and color schemes with this website builder for nonprofits.
Key Features –
Online donations – With over 50 payment integrations and methods, you can accept online donations without hassle.
Live chat – For quick and seamless collaboration with your target audience, Zyro allows you to insert messenger or WhatsApp chat alongside a contact form.
Reliable hosting – Zyro is an all-inclusive website builder that provides dedicated hosting. You will get a free domain for a nonprofit organization, hosting, and professional email to run your business seamlessly.
Pricing for Nonprofits –
Zyro offers paid plans that start at $3.99/month and goes up to $6.89/month.
Weebly is considered one of the easiest website builders for nonprofits. It provides a wide range of pre-built templates to help guide the creation of your website. With plenty of mobile responsive templates and SEO capabilities, it allows you to boost your online presence. It allows you to create a website, blog or online store for your nonprofit. With customizable domains and easy-to-use themes, it is one of the best website builders for nonprofits.
Key Features –
Embed code – Weebly allows you to add an embed code element to your website, which means you can add your custom code.
Donorbox – It allows you to add the donate button, donor form, and donation popups from Donorbox on your website.
Templates – The nonprofit templates of Weebly are very structured and provide unlimited flexibility in designing your website.
Pricing for Nonprofits –
Weebly for nonprofits includes a basic free plan. The paid plans start at $5/month and go up to $25/month for a business plan.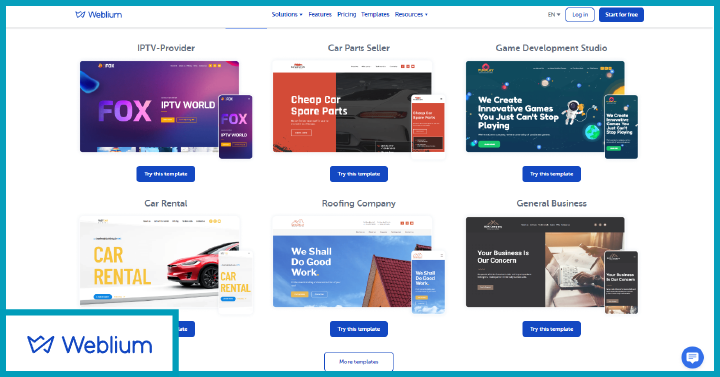 Weblium is another best website builders for nonprofits that allows you to build websites for any purpose. From informative to fundraising websites, you can create them in simple steps. It has many valuable tools that enable you to set up online donations, signups, registrations, and live chat. You can quickly increase user engagement on your website by embedding social sharing buttons. 
Key Features –
Templates – Weblium offers various templates in categories like – fundraising, church, women's community, charity, and more. You can choose from hundreds of templates to design a nonprofit website that helps achieve your goals. Some popular templates include – church, charity, and charity foundation.
Mobile responsive themes – The templates fit into devices of all sizes and screens. With a high-speed response rate, you can create stunning websites that can be edited with just one click.
Code editor – It has a code editor that supports HTML, Java, and CSS languages and is super easy to use. People with no coding skills can seamlessly create personal blocks and customize the edits.
Integrations – Weblium offers integrations with multiple business applications and systems like – Hotjar, Google Analytics, and Google Tag Manager to help you understand the visitor's behavior on your website. You can also measure the effectiveness of your marketing campaigns with these integrations.
Pricing for Nonprofits –
Weblium offers a free plan. The paid plans start at $4.54/month when billed yearly and go up to $8.25/month.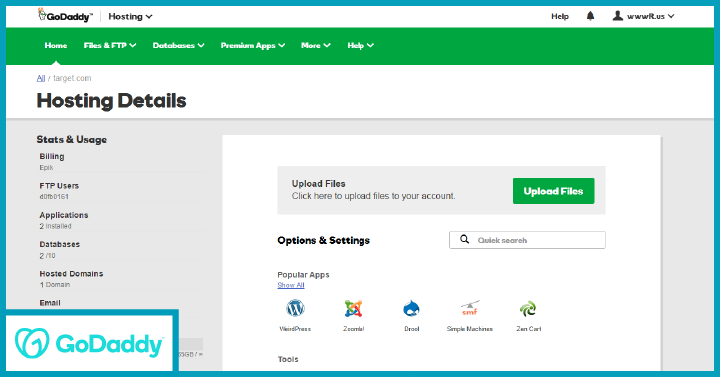 GoDaddy is a website builder for nonprofits that offers many tools to create a fully-functional website and create awareness among your target audience. It simplifies your website-building experience and provides all the tools for your nonprofit organization. With an easy-to-use editor, it ensures a smooth experience, and you can make your website live on the go.
Key Features –
Templates & Themes – It offers dozens of templates in the nonprofit category to help you create a fully functional website. Each template has features and a unique design that sets it apart from other websites. Some popular templates include – unity, club mission, and global spark.
Mobile-friendly – You can make your website mobile-friendly with the GoDaddy website builder. You don't have to change the code or do extra work to optimize your website for most devices – iPhone, Android, and tablets.
Drag-and-drop – You can create beautiful websites that solve your purpose and help you achieve your goals without hassle. Choose a template, drag-and-drop text/elements wherever you like, and make it live in minutes.
Pricing for Nonprofits –
GoDaddy nonprofit pricing doesn't include a free plan. It provides a one-month free trial on paid plans. The paid plans start at $2.00/month and go up to $12.00/month.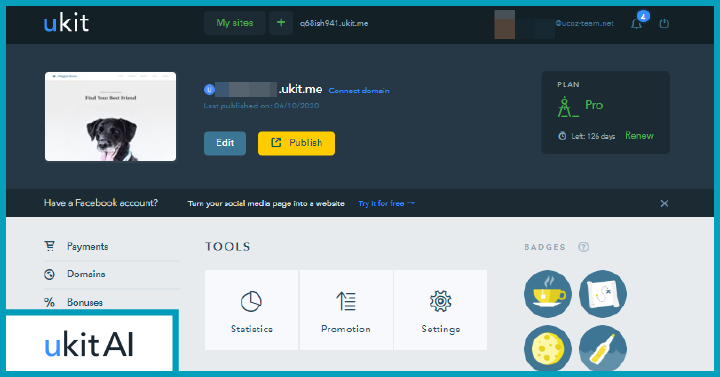 uKit is a website builder for nonprofits that have recently gained considerable popularity. With a strong focus on developing the charity and nonprofit projects, it offers convenient and easy solutions for users. It boasts a simple and intuitive interface that is easy to navigate, modern, and convenient. The simplicity of the website builder helps eliminate the need to hire a web developer or designer for your nonprofit organization.
Key Features –
Responsive templates and themes – The responsive templates in the nonprofit category automatically adapts to any screen size and resolution. With uKit, you can work on multiple templates and change themes on the go without losing content.
SSL certification – The SSL certifications enhance the security of your website and allow you to accept online donations without any risk. You can get the SSL certificate from uKit for free.
Widgets – There are several widgets in a nonprofit category, such as a calendar, event manager, LiveChat, call back, google maps, user comments, and social networking buttons to offer real-time help to people.
Pricing for Nonprofits –
uKit doesn't offer a free plan. It provides a 14-day free trial on paid plans. The paid plans start at $9/month and go up to $15/month.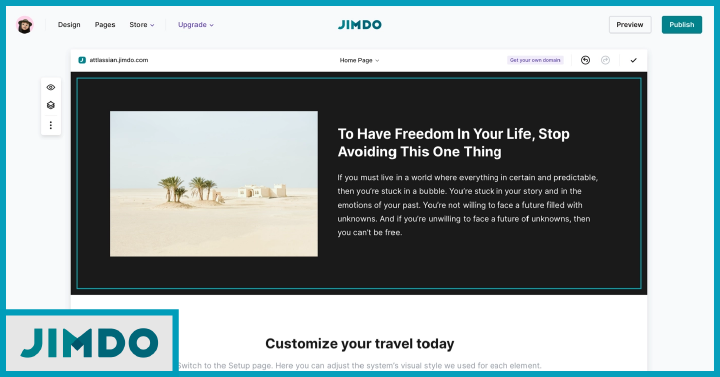 Jimdo is the next best website builder for nonprofits with an intuitive interface and provides plenty of layouts to build your website. Like other nonprofit website builders, it offers mobile responsive templates and has SEO capability to boost the visibility of your website. If you want to drive organic traffic to your website, you can pay for their "Ranking Coach" tool. It has many features, from HTML widgets to elements, plugins, and add-ons.
Key Features –
Responsive layouts – This website builder follows a responsive layout, which means the designs are functional on all screens.
Content blocks – The content blocks allow you to create inspirational designs, graphic elements, and illustrations to enhance the functionality of your nonprofit website. You will have complete control over the design, meaning you can design a 100% tailor-made website that meets your requirements.
Social media integration – It allows you to create social login options, add social sharing links to your blog posts, remind subscribers of your community events and help build a bigger audience.
Payment gateway – Jimdo offers a simple and secure way to accept donations online. It facilitates payments via stripe and PayPal.
Pricing for Nonprofits –
Jimdo offers a free plan. The paid plan starts at $9/month and goes up to $39/month.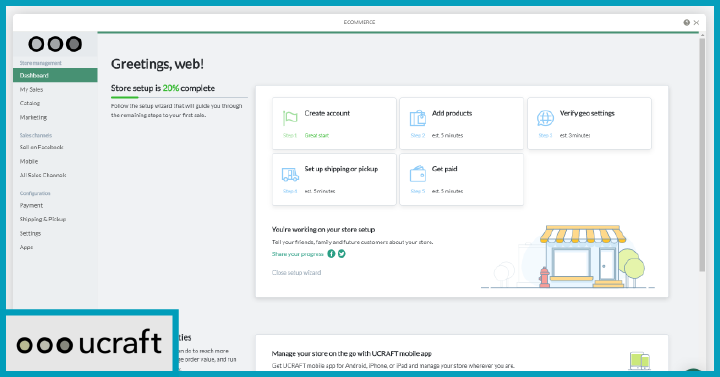 uCraft is the best free website builder for nonprofits that help you quickly set up pages for donations, events, signups, and anything else associated with your nonprofit organization. The pages can be automatically synced with the database, which means your supporters can share your message across various networks seamlessly.
Key Features –
100% customizable – With a wide range of design tools, you can fully customize the website per your requirement. From creating customizable pages for your volunteers to identifying supporters for email blasts, there are various options to choose from.
Articles app – This feature allows you to add a blog to your charity website and drive inbound organic traffic. Your visitor can initiate a discussion and create threads on their nonprofit community's latest news/happenings.
eCommerce – With uCraft, you can create your charitable store and sell products. It can be a place to organize charity fairs, auctions, events, and more that boost brand awareness.
Multilanguage support – If you intend to target a global audience, you can build a website in multiple language versions without additional investment.
Pricing for Nonprofits –
uCraft offers a free plan. The paid plans start at $10/month and go up to $69/month.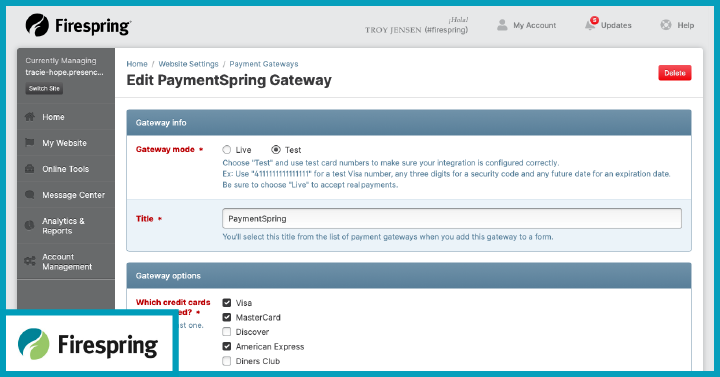 Firespring website builder fits nicely into the requirements of nonprofits. It has all the features needed to develop your brand, grow your visibility, and achieve your mission. You'll be able to build a unique nonprofit website with eye-catching designs, landing pages, and popup and signup forms. It's not just a website builder for nonprofits but a nonprofit mission management system to expand your organization's capabilities and accelerate growth.
Key Features –
Templates – With hundreds of website templates in the nonprofit category, you can create head-turning website designs that meet a high level of ADA accessibility. Some popular templates include – Terrane, Retreat, Cosmo, and Orlando. With minimalist designs, you can easily create and deliver powerful messages.
Event registration management – Firespring's event registration management feature eliminates the need to create multiple forms. You can create interactive pages and integrate payments, 24/7 registration forms, and tickets in a single form.
Donation payment – The donation payment processing feature makes it easier for your supporters to give donations (single or recurring) in a hassle-free way. It is mobile responsive, which means the supporters can make donations from any device.
Email marketing – You can create automated email campaigns by choosing from hundreds of ready-made mobile-friendly and responsive email themes. You can integrate it directly into your nonprofit website and make it work for you.
Pricing for Nonprofits –
Firespring doesn't have free plans. The paid plans start at $95/month and go up to $195/month.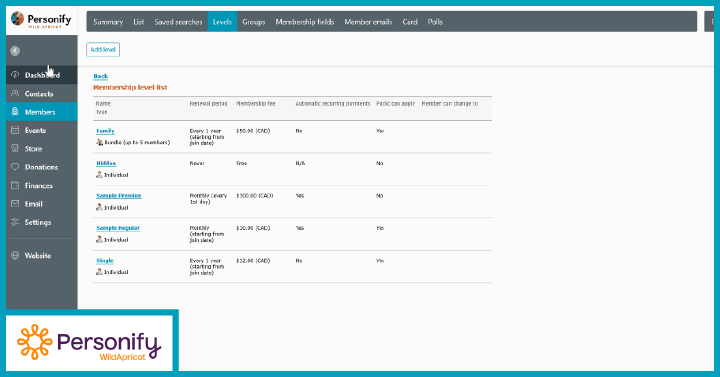 Wild Apricot is the best free website builder for nonprofits that helps you develop and make your website run in minutes. With dozens of customizable nonprofit website templates, you can customize the website with new content, logo, fonts, color, and schemes. It also has various built-in tools and integrations that will allow you to simplify marketing tasks, membership programs, events, and more. It is trusted by 3,833+ nonprofits.
Key Features –
Forums and blogs – You can stay connected with your community by regularly updating your blog posts
Mobile responsive themes – the drag-and-drop interface allows you to build highly personalized and mobile responsive websites.
Faster payment processing – You can accept and track online payments securely with easy online payment tools. The invoices are generated automatically.
Pricing for Nonprofits –
Wild Apricot offers a free plan. The paid plan starts at $48/month and goes up to $420/month.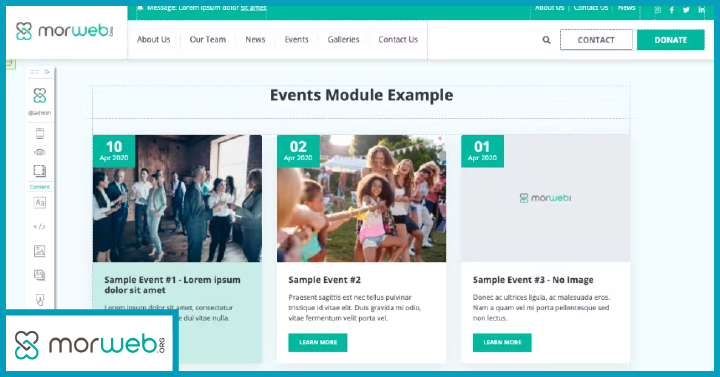 Morweb CMS website builder is an excellent fit for nonprofits. It offers the proper structure, design, and support teams to help manage and grow your online visibility. It allows you to edit, manage, and share information without technical experience. You can build professional websites and update them with fresh content regularly without hassle.
Key Features –
Customisable modules – It has several add-on modules that will help add extra functionality to your website.
Powerful editor – You can update your website seamlessly by dragging and dropping the elements on Morweb's Live Editor.
Event registration – Take your events to the next level by creating beautifully designed event pages that provide an engaging, intuitive, and streamlined registration process.
Secure donation forms – Morweb allows you to create and manage engaging and simple donation forms to convert users to donors quickly on any device. You can customize the donation form according to your brand and make the website more appealing.
Pricing for Nonprofits –
Morweb does not offer a free plan. The paid plan starts at $99/month and goes up to $199/month.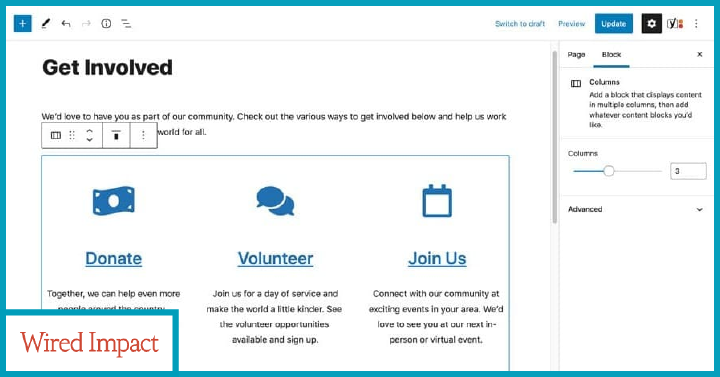 Wired Impact is another nonprofit website builder that is perfect for you if your primary objective is to raise funds. It offers a simple drag-and-drop editor that makes it easy for complete beginners to create interactive websites. It is powered by WordPress and solely developed for nonprofits, which means it has all the features and tools to build a website. You don't need any third-party integrations to make it fully functional.
Key Features –
Donations – Integrate this feature into your website with preferred payment processors and donors database. You can accept donations on your website by integrating stripe, integrate, and authorize.net.
Manage volunteers – The volunteer management feature makes recruiting, managing, and mobile volunteers easier. You can post ongoing volunteer opportunities on your website, accept registrations, and send automated reminder emails to boost attendance.
Promote events – You can showcase the list of events, attendees, and participants on your website. You can easily link your website with various email marketing tools, donor management systems, and payment processors.
Pricing for Nonprofits –
Wired Impact doesn't offer a free plan. The paid plan starts at $69/month and scales up to $329/month.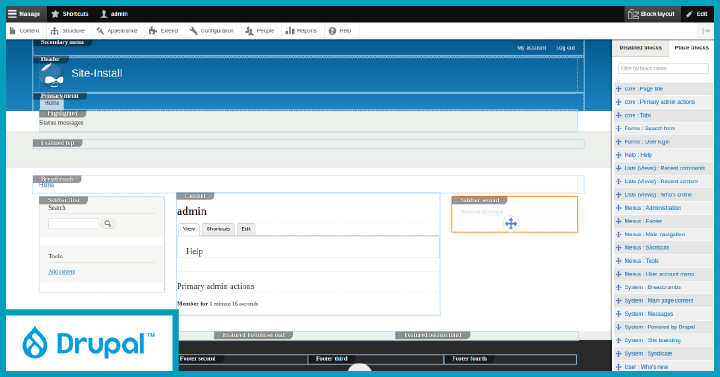 Drupal is a popular CMS for managing complex and dynamic websites. Nonprofits use this website builder to amplify their mission. With plenty of out-of-the-box functionalities and features, Drupal makes it easier to manage your website as it grows. You will be able to connect with your audience via your website and encourage them to take part in fundraising campaigns, make a donation, and share your work.
Key Features –
Content Management System (CMS) – It supports various content formats, including text, videos, podcasts, and images. You can publish different types of content and create multichannel digital experiences for your supporters.
Mobile responsive – You can create a mobile responsive website for your nonprofit using Drupal. Also, it uses a cache feature so that the previously-viewed content is loaded quickly.
Custom coding – Drupal can eliminate the need for coding skills by accommodating complicated websites with custom coding themes. With Drupal, you can customize content types, presentations, forms, fields, and more to support your content strategies.
Integrations – Drupal integrates with a wide range of third-party tools and applications such as – Marketo, HubSpot, SugarCRM, PHP Cart, SAP, PayPal, Xoom, and Google checkout.
Pricing for Nonprofits –
Drupal offers a free plan.
4. FAQs
Is Wix Good for Nonprofits?
With 250+ add-on features, templates and apps, Wix can help you design a fully-functional and beautiful website that enables you to grow your business. It is easy to use and the ideal website builder for any nonprofit to develop its website without much investment.
Is Wix Free for Nonprofits?
Wix can be a perfect option for nonprofits because it is free to use. Create uniquely stunning websites with secure donations, payments, volunteer signups, event registrations, and more.
Is GoDaddy Good for Nonprofits?
GoDaddy is one of the popular website builders for nonprofits because of the affordable rates, a wide range of services, built-in templates, and extra features.
5. About Growth Ganik
Growth Ganik is a rapidly evolving digital marketing agency in Sydney, Australia, specializing in SEO, content marketing, marketing strategy, and lead generation.
We work with clients from leading brands and industries such as B2B SaaS, nonprofits, and more to develop profitable digital marketing solutions that are data-driven to support all kinds of business goals – from widening user bases and gaining more traction for online engagement to increasing conversion and helping businesses scale up.
For creative tailor-made digital solutions and sustainable growth insights, get in touch with us!